WW Health Solutions partners with employers to propel happier, healthier, more engaged workplaces and communities.
By participating in Health Solutions employees will eat what they love. Shift their mindset. Do what moves them.
Our science-backed program will help employers increase engagement.
Reduce absenteeism. Address rising healthcare costs and challenges.
Attract—and retain—talent.
Empowering workforces to adopt healthier
habits for real life
WW's customized program has been proven to make weight loss easier.*
WW has been ranked the #1 "Best Diet" for weight loss by U.S. News & World Report for 12 years running!
WW is the #1 doctor-recommended
weight-loss program*
Inspiring happier, healthier
workplace communities
WW partners with employers, payors and health providers
to deliver custom wellness strategies — powered by the
most scientifically-proven weight loss program — that
positively impact health and culture and promote
sustainable behavior change.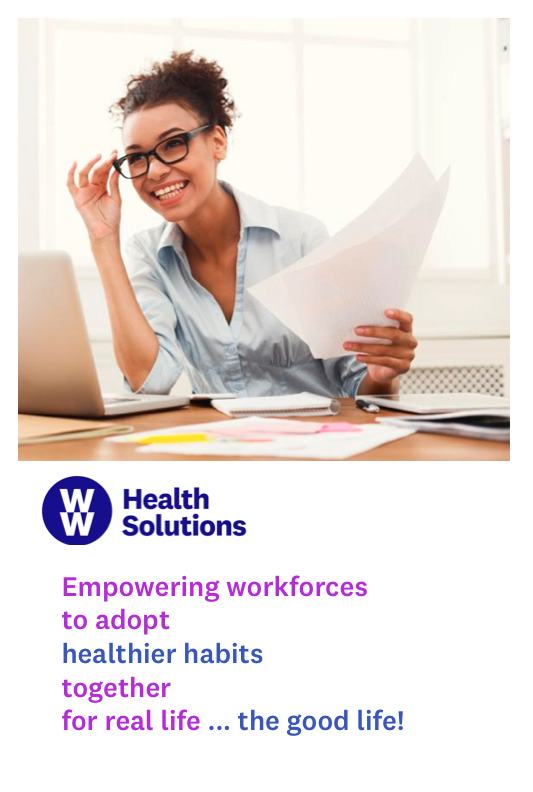 Let's talk about how WW can help your organization meet its wellness goals.
Please complete the form below to be contacted by a member of our Health Solutions sales team.
No fads, just proven science.
What Healthy Solutions Members
are Saying

Real Members. Real Success.
"Through this past journey, I have really regained my health and my energy and my happiness and my excitement!
I chose to join at work because it was convenient. We could talk about different tips and ideas and ways to work together.
I lost 111 pounds and I feel incredible."
Want to learn more?
Contact us or download our brochure today to learn more about how WW can
partner with you to help your employees adopt healthier habits for real life.