The Weight Watchers program
The Weight Watchers program
Build healthy habits that become second nature–for a healthy life.

Healthy, Satisfying Food Choices



You'll get a plan that's tailored
and customized to your style of living. How you build meals and snacks will be based on your lifestyle — how you chose to live.

Eat Smarter
Our science-based system is tailored for your age, height, weight, and sex to help you lose weight and build healthy habits that become second nature — for the good life.

Workshop Support
Workshops provide practical advice, coaching and Member interaction. The weekly support and motivation, along with Virtual will empower you to take on the week ahead.
Weight Watchers … learn it, live it, love it
How It Works


(hint: no foods are off limits)
We use a system no one else does. You lose weight as you enjoy your favorite foods.
For the Weight Watchers program to work, it has to work for each individual Member.
Your Point Budget is tailored and calculated on your age, height, weight, and sex.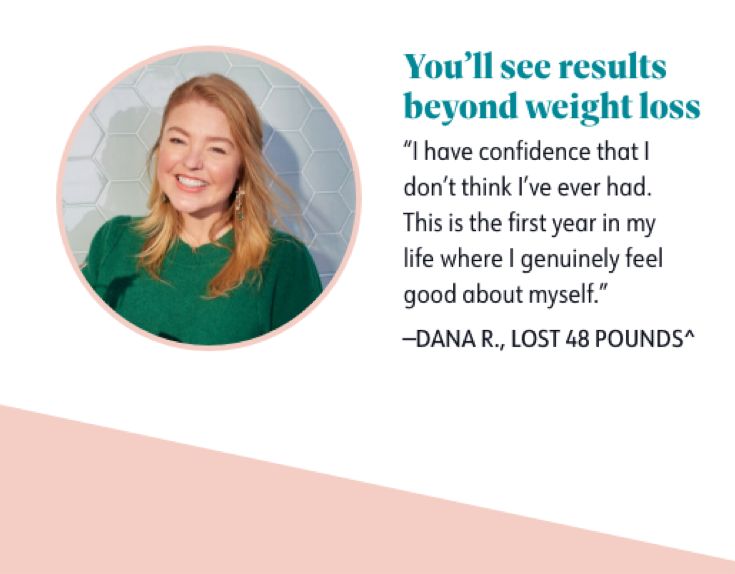 Meet the Point
The Point takes a food's specific
nutritional info and turns it into a single number … that's the Point!

Get your plan
Using your daily and weekly Point Budget create a livable plan that includes your favorites.  

Make healthier choices
Your Point Budget gently nudges you to eat more nutritious foods and helps you find portion sizes that are right for you. 

Find your community
Meet Members face-to-face at Workshops, Celebrate you! Share tips, recipes and solutions for common challenges. 

Weight Watchers fits your lifestyle … not the other way around

When you are ready to join, feel good about your decision …



Weight Watchers is the #1 doctor-recommended weight-loss program.†
†Based on a 2020 IQVIA survey of 14,000 doctors who recommend weight-loss programs to patients.
U.S. News & World Report ranked Weight Watchers the #1 best diet for weight loss for 12 years in a row 2011–2022.
it's proven. the effectiveness of group support results in more weight loss. studies have shown 

losing weight with a group results in 8.8X more weight loss than going it alone.†
†A Randomized Controlled Trial of a Community-based Behavioral Counseling Program
Craig A. Johnston, PhD, Stephanie Rost, MS, RD, Karen Miller-Kovach, MBA, MS, RD, Jennette P. Moreno, PhD, John P. Foreyt, PhD,
USDA/ARS Children's Nutrition Research Center, Department of Pediatrics-Nutrition and Department of Medicine, Baylor College of Medicine, Houston, Tex; Weight Watchers International, Inc., New York, NY.
Weight Watchers is the most trusted weight loss program as part of the Brandspark® Newsweek most trusted awards.††
††Voted Most Trusted Weight Loss Program by American Shoppers based on the 2022 BrandSpark® American Trust Study.
Weight Watchers is the most proven weight-loss program …  ever!  with over 100 published studies, including 25-plus gold-standard randomized trials that demonstrate the efficacy of Weight Watchers for both weight-loss and wellness outcomes.††
Free! Bluetooth Body Analysis Scale When You Join For Six Months!
This website is owned by Weight Watchers of Philadelphia, Inc. All rights reserved. The WW Logo, Weight Watchers, Points, and ZeroPoint are trademarks of WW International, Inc. 2023 WW International, Inc. All rights reserved.