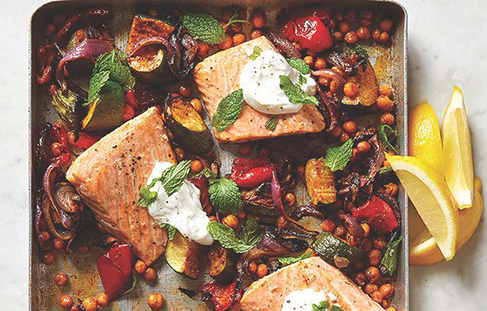 Roasted salmon with chickpeas, zucchini
and red peppers
This recipe holds up for several days in the fridge,
and reheats well. Work it into other meals, or enjoy as is.

SmartPoints® value per serving
Total Time: 1 hr 5 min Prep: 25 min Cook: 40 min
Serves: 4 Difficulty: Easy
Ingredients
• smoked paprika
1½ tsp(s), smoked, sweet variety
• extra virgin olive oil
4 tsp(s)
• ground coriander
1 tsp(s)
• ground cumin
1 tsp(s)
• kosher salt
1 tsp(s)
• black pepper
¾ tsp(s), freshly ground
• uncooked zucchini
2 medium, cut into 1-in chunks
• sweet red pepper(s)
1 medium, chopped
• canned chickpeas
15½ oz, rinsed, patted dry
• plain fat free Greek yogurt
4 tbsp(s)
uncooked red onion(s)
1 medium, thinly sliced
uncooked farmed salmon fillet(s)
with or without skin
Instructions
1. Preheat oven to 450°F.
2. Combine paprika, coriander, cumin, salt and pepper in a small bowl; mix well to combine and set aside
3. Combine zucchini, red pepper, onion and chickpeas on a large sheet pan (12- X 16-in); add 1 Tbsp oil and 4 tsp spice mix. Toss well to coat evenly and then spread in a single layer; bake 20 minutes.
4. Meanwhile, coat salmon with remaining tsp oil and remaining spice mixture; set aside.
5. Remove sheet pan from oven; toss vegetables with a spatula. Clear 4 spaces so the salmon can sit right on pan; nestle salmon in spaces. Return to oven; bake for another 10 minutes, or until salmon is cooked to your liking.
6. To serve, dollop 1 Tbsp yogurt over each file; sprinkle with shredded mint. Garnish with additional mint springs, if desired; serve immediatelywith lemon wedges.
Notes:
Serving size: 1 salmon filet and 1 c bean-veggie mixture