Waffle with lemony ricotta and blueberries
SmartPoints® value per serving
Total Time: 
  7 min   
Prep: 7 
min  Cook:  2 min  
Serves: 1
There's really no faster breakfast than this one, as it comes together in just seven minutes and requires six ingredients. But it's got everything you'd ever want before a busy day: creamy ricotta cheese, sweet powdered sugar, and deliciously fresh blueberries. Lemon juice and zest add a tasty bright note to the ricotta cheese. We love how the blueberries complement the topping for these waffles, but you can try this recipe with strawberries or blackberries if you prefer. As with all of our recipes that serve one, you can double or triple the ingredients to make a whole batch of waffles if you're serving a crowd for breakfast or brunch.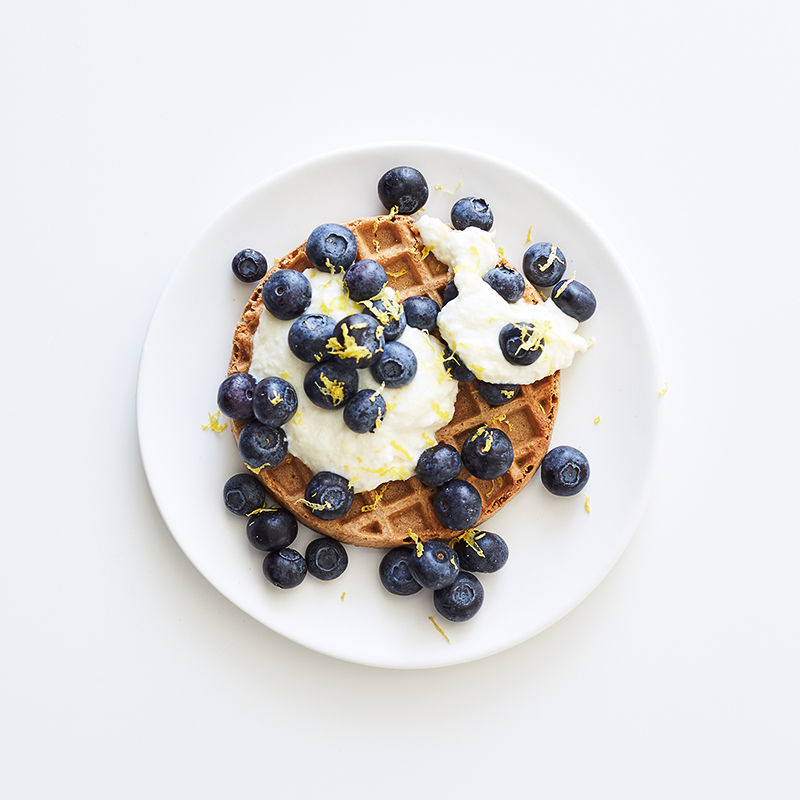 Ingredients
Part-skim ricotta cheese
3
 Tbsp
Powdered sugar (confectioner's)
1
½
 tsp
Lemon zest
½
 tsp
, finely grated
Fresh lemon juice
1 tsp
Frozen whole grain waffle(s)
1 item(s), toasted
Fresh blueberries
½ cup(s)
Instructions
1. Combine ricotta, sugar, lemon zest and juice in small cup; spread over or dollop onto waffle. Top with blueberries.
2. Makes 1 serving.