SmartPoints® value per serving
Total Time: 
  8 hr 12 min   
Prep: 12 
min  Cook:  8 hr  
Serves: 8
Maximum comfort and minimal effort make this the ideal soup for any cold weather day. Only 12 minutes of preparation and the slow cooker does the heavy lifting. Lean Canadian bacon infuses a smoky layer into the broth and adds depth to the broth. A quick puree of a cup of lentils adds body. With a hearty eight servings, this dish tackles a crowd of hungry sledders or makes a sock pile of lunches for the week. For additional flavor, top each serving with a splash of white wine vinegar or sub in 1 tablespoons fresh thyme for the dried thyme to kick up the fresh herb flavor.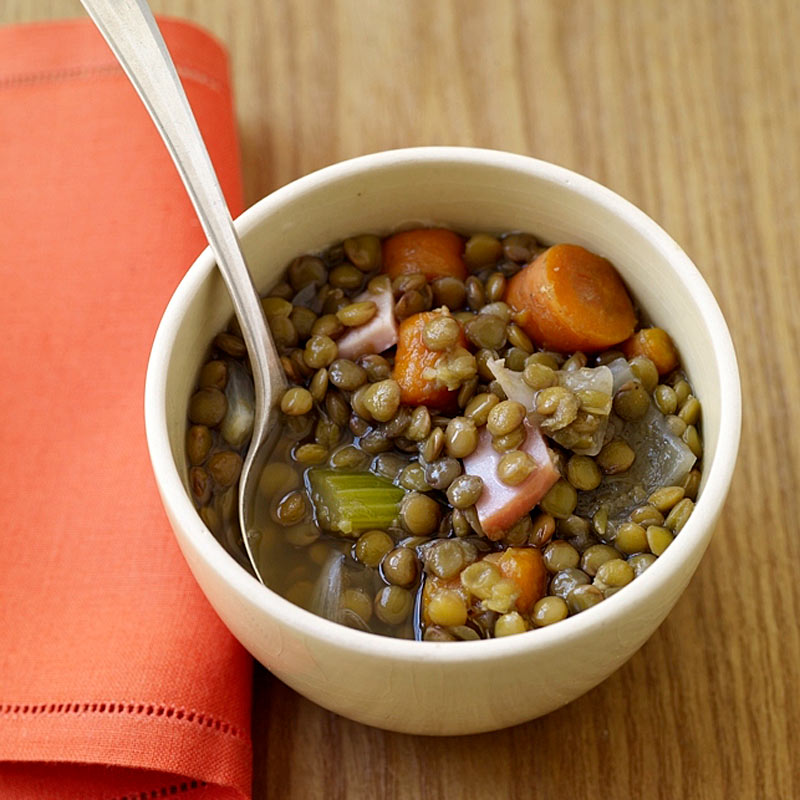 Ingredients
Uncooked carrot(s)
2 medium, peeled, cut into large chunks
Uncooked celery
2 rib(s), medium, cut into large chunks
Uncooked onion(s)
1 medium, cut into large chunks
Garlic clove(s)
2 medium clove(s), minced
Dry lentils
2 cup(s), picked over
Bay leaf
3 leaf/leaves
Dried thyme
½ tsp, crushed
Table salt
½ tsp, or to taste
Black pepper
¼ tsp, or to taste
Canned chicken broth
8 cup(s)
Uncooked Canadian bacon
4 oz, diced (4 or 5 slices)
Instructions
1. Place ingredients in a 4- to 5-quart slow cooker in the following order: carrots, celery, onion, garlic, lentils, bay leaves, thyme, salt, pepper and broth. Cover slow cooker; cook on low setting for 6 hours. Uncover, stir in bacon and heat for 30 minutes more; remove bay leaves. Yields about 1 1/2 cups per serving.
Notes
To thicken soup, remove 1 cup of cooked lentils and puree in food processor; stir back into soup. For a lighter flavor, replace 4 cups of chicken broth with 4 cups of water.To make this vegetarian, substitute a cup of sliced shiitake mushroom caps for the Canadian bacon and use vegetable broth (could affect SmartPoints value).