Salmon niçoise salad with lemon-caper dressing
Total Time: 
  47 min   
Prep: 20 
min  Cook:  27 min  
Serves: 4
This French salad gets a facelift when rich steamed salmon fillets are used in place of traditional seared tuna. One pot of boiling water does all the work to cook the potatoes and green beans then steam the salmon making clean-up virtually non-existent. Tossing the hot potatoes with a little of the dressing allows them to soak in the delicious tangy flavor of the fantastic homemade lemon-caper dressing as they cool. Plunging the green beans in the ice water preserves their color and crispy texture while speeding up the cooling process. In under 50 minutes this gorgeous and filling salad is ready for a delightful lunch or dinner al fresco.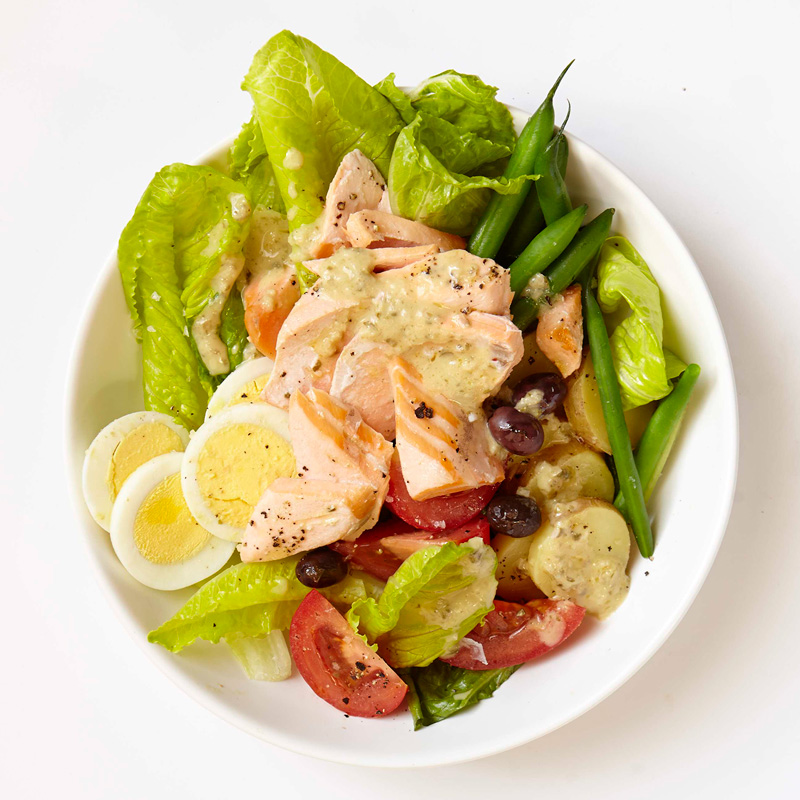 Ingredients
Fresh lemon juice
4
½
 Tbsp
Uncooked shallot(s)
1
½
 small
, minced
Capers
2
 Tbsp
, rinsed, drained
Extra virgin olive oil
1
½
 Tbsp
Uncooked new potato(es)
¾
 pound(s)
, sliced 1/3-inch thick
Uncooked string beans
8 oz, trimmed
Uncooked farmed salmon fillet(s) with or without skin
8 oz, (but with skin recommended)
Table salt
⅛ tsp
Lettuce
4 cup(s), chopped
Fresh tomato(es)
2 small, cut into wedges
Eggs, hard-boiled
2 item(s), peeled, sliced
Olive(s)
12 medium, Niçoise variety
Instructions
1. To make dressing, put lemon juice, shallot, capers, oil, water and mustard in a blender container; puree and set aside.
2. Put about 3-inches salted water in a large pot; bring to a boil over high heat. Add potatoes; reduce heat to medium and simmer until tender, 7-10 minutes. Transfer potatoes to a bowl with a slotted spoon; toss with 1 Tbsp dressing and let cool.
3. Fill a large bowl with ice water; set aside.
4. Put green beans in same large pot; simmer until crisp-tender, 3-4 minutes. Transfer to ice water with a slotted spoon; cool and then drain.
5. Put salmon in a steamer basket; sprinkle with salt. Set steamer over simmering water; cover and steam fish until just opaque in center, 8-10 minutes.
6. While salmon cooks, divide lettuce, potatoes, string beans, tomatoes, eggs and olives among 4 plates; top each with 2 oz salmon and drizzle each with about 2 1/2 Tbsp dressing.
7. Serving size: 1 salad.
Notes
Double the dressing recipe to drizzle over grilled vegetables later in the week.