Roasted salmon with chickpeas, zucchini, and red pepper
SmartPoints® value per serving
Total Time: 
  55 min   
Prep: 25 
min  Cook:  30 min  
Serves: 4
In less than an hour this impressive on-pan meal is ready to delight your family or guests with an array of colors and flavors. The Indian-inspired blend of spices goes a long way on the veggie-chickpea mixture as well as the salmon. The dollop of yogurt at the end, paired with a touch of mint cools the spice blend and adds a creamy texture and tang to accompany the rich flavor of the roasted salmon. Serve this on the roasting pan for a rustic presentation or transfer to shallow bowls. Multiply this easily with no additional prep time for a lively Easter meals. This recipe holds up well for several days in the fridge, and reheats well. Work it into other meals, or enjoy as is.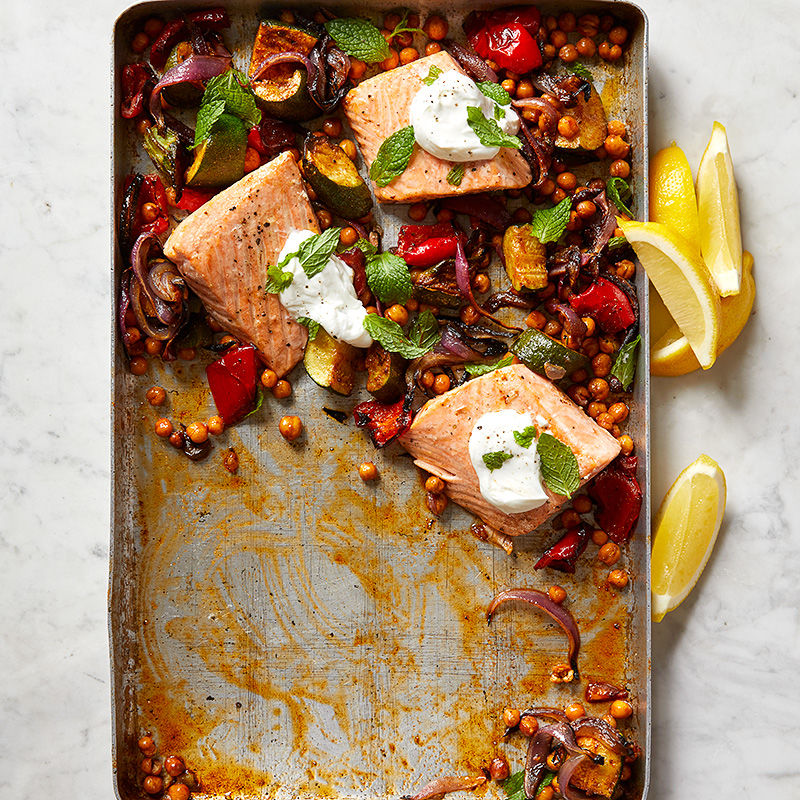 Ingredients
Paprika
1½ tsp, smoked, sweet variety
Ground coriander
1 tsp
Ground cumin
1 tsp
Kosher salt
1 tsp
Black pepper
¾ tsp, freshly ground
Uncooked zucchini
2 medium, cut into 1-in chunks
Sweet red pepper(s)
1 medium, chopped
Uncooked red onion(s)
1 medium, thinly sliced
Canned chickpeas
15½ oz, rinsed, patted dry
Extra virgin olive oil
4 tsp, divided
Uncooked skinless wild salmon fillet
1 pound(s), cut into 4 equal pieces
Plain fat free Greek yogurt
4 Tbsp
Fresh mint leaves
2 Tbsp, for garnish
Lemon(s)
½ medium, cut into 4 wedges
Instructions
1. Preheat oven to 450°F.
2. Combine paprika, coriander, cumin, salt and pepper in a small bowl; mix well to combine and set aside
3. Combine zucchini, red pepper, onion and chickpeas on a large sheet pan (12- X 16-in); add 1 Tbsp oil and 4 tsp spice mixture. Toss well to coat evenly and then spread in a single layer; bake 20 minutes.
4. Meanwhile, coat salmon with remaining tsp oil and remaining spice mixture; set aside.
5. Remove sheet pan from oven; toss vegetables with a spatula. Clear 4 spaces so the salmon can sit right on pan; nestle salmon in spaces. Return to oven; bake for another 10 minutes, or until salmon is cooked to your liking.
6. To serve, dollop 1 Tbsp yogurt over each piece salmon; garnish with mint. Serve immediately with lemon wedges.
7. Serving size: 1 salmon filet and 1 cup vegetable mixture