Refried beans with poached egg and pico
Total Time: 
  10 min   
Prep: 6 
min  Cook:  4 min  
Serves: 1
This hearty, stick-to-your-ribs breakfast is built for one person but easily doubles, quadruples, or more if you'd like to make it for your family. It's quick to pull together on busy mornings, and even quicker if you pre-poach your egg (or a few eggs to enjoy throughout the week). Simply poach the number of eggs you want, and store for up to 3 days in a container of water in the fridge. As you start to assemble your breakfast, warm up your egg in a bowl of very hot tap water; drain on a paper towel and perch atop the refried beans when you're ready to eat.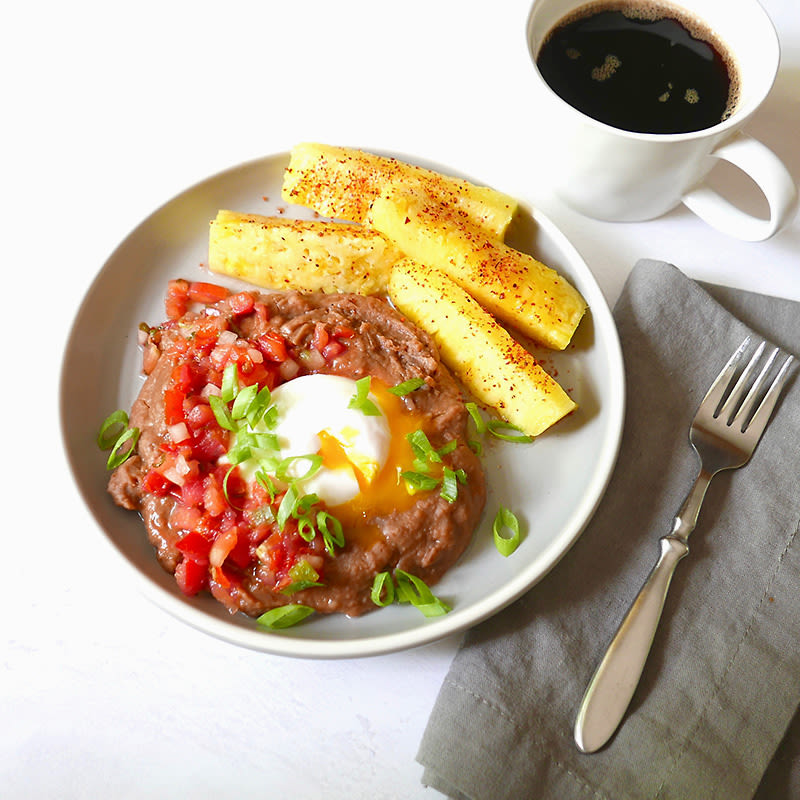 Ingredients
Fat free canned refried beans
¾
 cup(s)
Uncooked scallion(s)
1
 Tbsp
, thinly sliced
Pineapple
1
 cup(s)
, about 4 spears
Tajin Clasico seasoning with lime
½
 tsp
, or similar product
Instructions
1. Fill a small saucepan half full with water and bring to a boil. Reduce heat to a bare simmer. Carefully crack egg into a custard cup and slip into water. Cook until egg white is firm but yolk is still soft, 3-5 minutes. With a slotted spoon, transfer egg to a paper towel–lined plate to drain.
2. Meanwhile, combine beans and water in a microwave-safe bowl. Cover loosely and microwave on High until thoroughly heated, about 1 minute. Spoon beans onto a plate and top with egg, pico de gallo, and scallions.
3. Arrange pineapple on plate and sprinkle with seasoning.
4. Serving size: 1 plate
Notes
Tajin seasoning (pronounced ta-heen) is a blend of dried chiles, lime, and salt and readily available at most grocery stores with the Latin American foods. If you can't find it, you can squeeze a lime wedge over the pineapple, and dust it with chili powder and salt.