Pulled chicken ancho chile and black bean soup
Total Time: 
  58 min   
Prep: 25 
min  Cook:  30 min  
Serves: 8
A dollop of plain yogurt helps tame the heat in this Mexican-inspired soup. Not only does it feature poblano chiles and chili powder, but ancho chile powder as well. Chili powder tends to have other spices like oregano, garlic, and cumin. Ancho chile powder, made only from ancho chiles, isn't too spicy as anchos are some of the sweetest chiles out there. If you're sensitive to spice, simply add a little bit, give it a taste, and keep gradually adding until you hit that perfect level of heat. These spices wonderfully balance out the chicken, black beans, corn, onions, and fresh cilantro.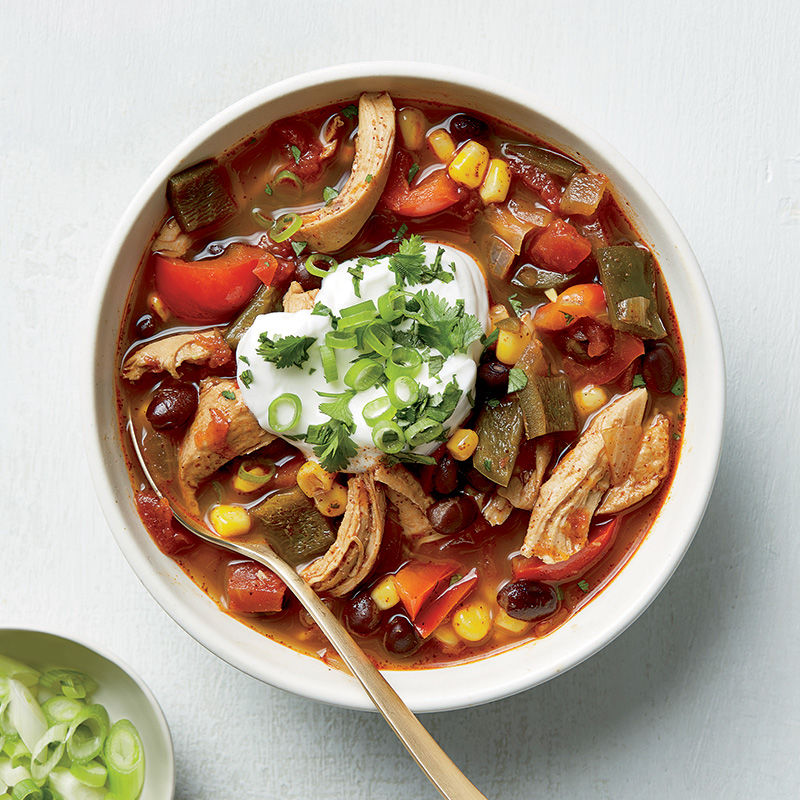 Ingredients
Olive oil
1 tsp
Uncooked onion(s)
2 cup(s), chopped, chopped
Poblano chile
2 medium, chopped
Kosher salt
1½ tsp, divided
Minced garlic
1 Tbsp
Sweet red pepper(s)
1 medium, diced
Chili powder
2 tsp, or to taste
Ancho chile powder
2 tsp, or to taste
Ground cumin
2 tsp
Fat free chicken broth
4 cup(s)
Canned diced tomatoes
15 oz
Uncooked boneless skinless chicken breast
1 pound(s)
Canned black beans
15 oz, rinsed and drained
Frozen corn kernels
2 cup(s), defrosted
Fresh lime juice
1 Tbsp
Plain fat free Greek yogurt
1 cup(s)
Cilantro
½ cup(s), chopped
Uncooked scallion(s)
½ cup(s), sliced
Instructions
1. Heat oil in a large soup pot over medium heat. Add onion, poblano and 1 tsp salt; cook, stirring often, until onion is soft, 7-10 minutes. Add garlic, red pepper, both chili powders and cumin; cook, stirring a few times, 1 minute. Add broth and tomatoes; increase heat to high to bring to a boil. Reduce heat to medium low and bring to a simmer; add chicken to pot. Cover and simmer until cooked through, 7-10 minutes.
2. Remove chicken to a plate; let cool 2-3 minutes. Meanwhile, add beans and corn to pot; cook until heated through, 2-3 minutes.
3. Shred chicken with two forks; add back to soup. Stir in lime juice and remaining 1/2 tsp salt (or to taste); serve topped with yogurt, cilantro and scallions.
4. Serving size: 1 c soup, 2 Tbsp yogurt, 2 Tbsp cilantro/scallion