Poblano and egg breakfast sandwich
SmartPoints® value per serving
Total Time: 
  12 min   
Prep: 5 
min  Cook:  7 min  
Serves: 1
Here's a spicy twist to a classic breakfast egg sandwich. It takes just 12 minutes to have it ready to go and is lightened up with reduced-fat cheese, whole wheat bread, and egg whites. If you happen to have some cilantro or other favorite herb on hand, feel free to chop some and throw it in as you're cooking the egg whites—it will add a nice fresh touch! Also, poblano chiles are a slightly spicy pepper, so err on the side of too little if you're sensitive, but if you want to keep it completely tame, you can use bell pepper instead.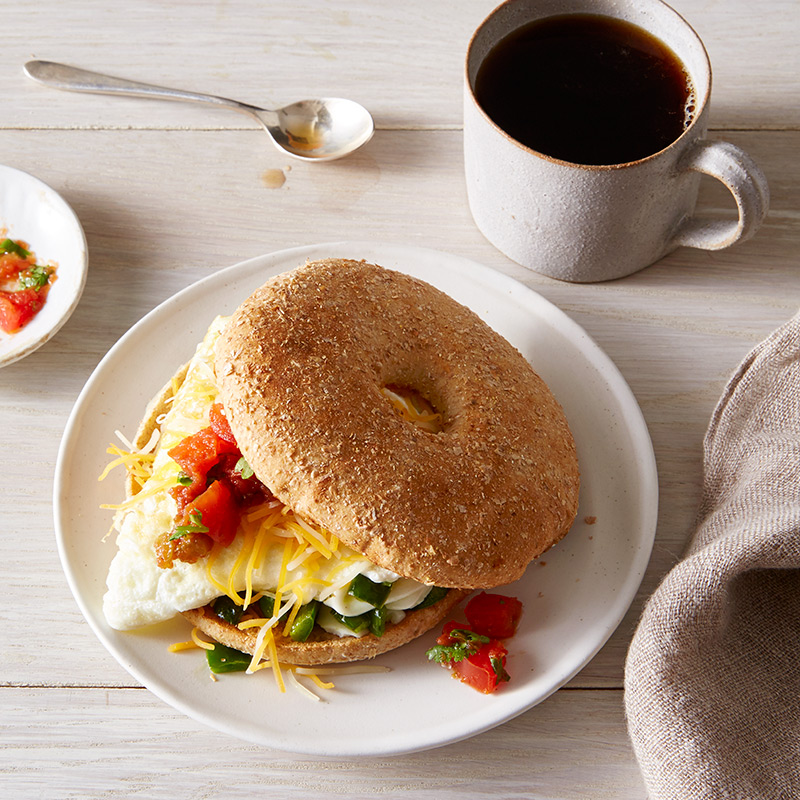 Ingredients
Cooking spray
1 spray(s)
WW Reduced fat shredded Mexican style blend cheese
⅛ cup(s)
Thin whole wheat sandwich bread (roll)
1 item(s)
Poblano chile
½ small, diced (about 1/2 cup)
Egg white(s)
6 Tbsp
Table salt
⅛ tsp
Salsa sauce
1 Tbsp
Instructions
1. Spray a medium nonstick skillet with cooking spray and set over medium-high heat. Add diced poblano pepper and sauté until crisp-tender. Transfer peppers to a plate when done.
2. Stir All Whites and salt in a small bowl, then stir into skillet. Cook until set, then scatter with reserved peppers. Fold into quarters.
3. Place bottom half of sandwich thin on a plate. Place omelet on top. Sprinkle with cheese, then top with salsa and sandwich thin top.
Notes