Pesto chicken salad sandwiches
Total Time: 
  12 min   
Prep: 12 
min  Cook:  0 min  
Serves: 2
These upscale chicken salad sandwiches are a breeze to make since they use prepared pesto and leftover or rotisserie chicken breasts. Adding mayonnaise and yogurt to the store-bought pesto gives it a creamy, tangy flavor that's to-die-for on a sandwich. All you have to do is top slices of wheat bread with peppery arugula, plum tomato slices, then pile on the chicken salad. Feel free to use your favorite greens if you don't particularly enjoy arugula, or substitute slices of beefsteak tomatoes if they're ripe and in season. Regardless, one bite of this, and you'll never go back to plain ol' chicken sandwiches again.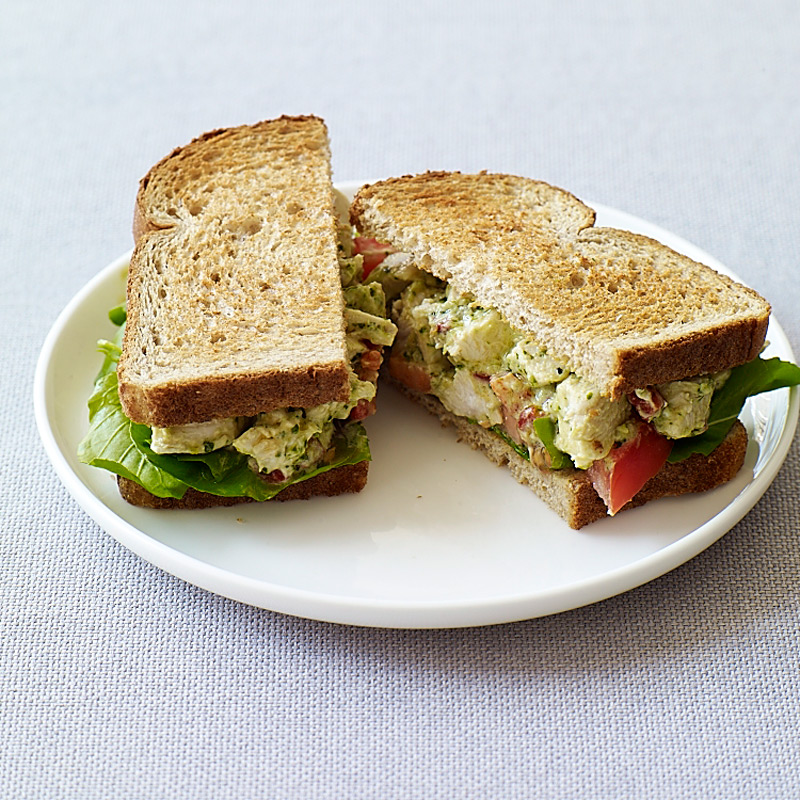 Ingredients
Reduced-fat pesto sauce
2 Tbsp
Reduced calorie mayonnaise
2 tsp
Plain fat free yogurt
2 tsp
Cooked skinless boneless chicken breast(s)
4 oz, chopped
Roasted red peppers (packed in water)
3
 Tbsp
, diced
Reduced calorie wheat bread
4
 slice(s)
, toasted
Arugula
1
 cup(s)
, baby leaves
Plum tomato(es)
1
 medium
, sliced
Instructions
1. In a medium bowl, stir together pesto, mayonnaise and yogurt until blended. Stir in chicken and peppers; toss until coated.
2. Place toast on a work surface. Top each of 2 slices with 1/2 cup arugula, half of tomato slices and 2/3 cup chicken salad. Top with remaining pieces of toast; cut in half and serve.
3. Serving size: 1 sandwich