One-pot penne with broccoli rabe and sausage
SmartPoints® value per serving
Total Time: 
  40 min   
Prep: 15 
min  Cook:  25 min  
Serves: 4
Tender broccoli rabe is the perfect accompaniment for any pasta dish and nicely balances out the hearty sausage and salty cheese. One of our favorite secrets from this one-pot pasta recipe? We transfer the sausage from the skillet using a slotted spoon, so the fat from the sausage can coat and flavor the remaining ingredients. No need to add any additional fat or cooking oils. You can use this technique for mostly any time you're cooking sausage, then additional aromatics in the same pot. Less cleanup, even more flavor!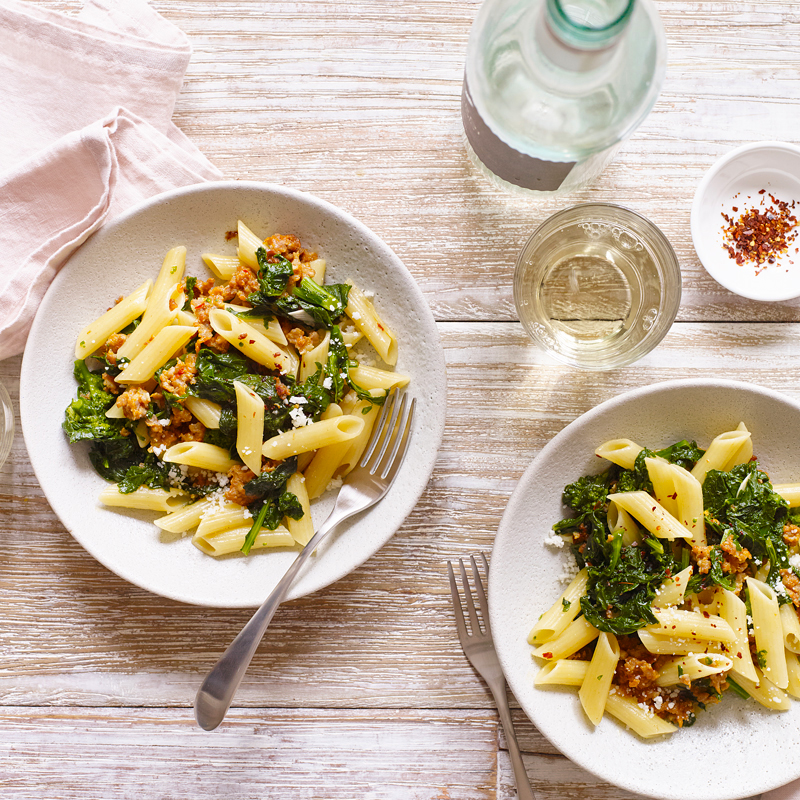 Ingredients
Cooking spray
3 spray(s)
Raw fresh turkey sausage
9 oz, hot variety, casings removed
Olive oil
1 tsp
Garlic clove(s)
2 large clove(s), thinly sliced
Uncooked broccoli rabe
1 pound(s), trimmed and coarsely chopped
Table salt
¼ tsp
Uncooked penne
8 oz, rigate
Canned chicken broth
3½ cup(s)
Grated Pecorino cheese
¼ cup(s), divided
Crushed red pepper flakes
1 pinch, optional
Instructions
1. Coat a large, deep nonstick skillet (12 in-diameter) or soup pot with cooking spray; set over medium heat. Add sausage; cook, breaking sausage apart with a wooden spoon, until no longer pink, about 5 minutes. Transfer sausage to a large bowl using a slotted spoon; set aside.
2. Heat oil in same skillet over medium-high heat. Add garlic; cook, stirring frequently, until fragrant, about 30 seconds. Add broccoli rabe and salt; cover and cook, stirring occasionally, until just beginning to wilt, about 3 minutes. Remove broccoli rabe to bowl with sausage using a slotted spoon.
3. Add pasta and broth to skillet; bring to a boil over high heat. Cook uncovered, stirring occasionally, 8 minutes; stir in broccoli rabe and sausage. Cook, stirring, until broccoli rabe is tender, pasta is al dente and liquid has reduced to a saucy consistency, about 2 minutes. Remove pan from heat; stir in 2 Tbsp cheese and garnish with red pepper flakes (optional). Serve each portion sprinkled with 1/2 Tbsp cheese.
4. Serving size: 1 3/4 c