Italian turkey sausage and pepper pasta
SmartPoints® value per serving
Total Time: 
  40 min   
Prep: 15 
min  Cook:  25 min  
Serves: 6
Italian sausage, red wine and fire-roasted tomatoes come together to create a ragout-like sauce that is hearty, savory, and deeply satisfying. The red wine adds richness and depth to the sauce. It is added just after the vegetables have softened, which gives it time to reduce and let the alcohol cook off, leaving behind only its robust flavor. You can use beef or chicken broth in place of the, if you like. You can also substitute mild or spicy chicken sausage for the turkey sausage, and use a mix of red, yellow, or orange bell peppers for a prettier dish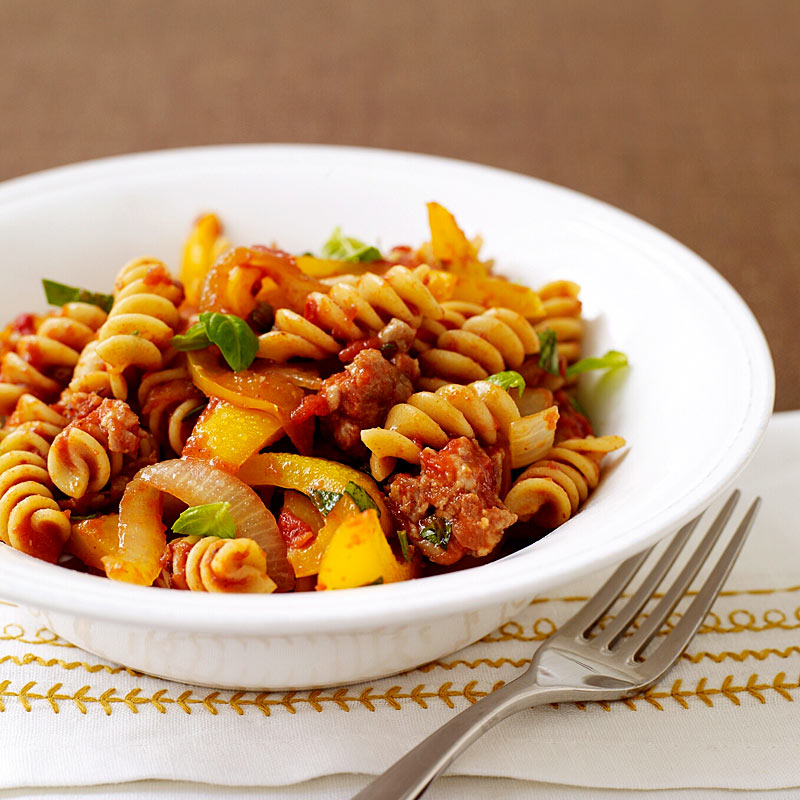 Ingredients
Uncooked turkey sausage(s)
½ pound(s), Italian-style, casings removed
Olive oil
2 tsp, extra-virgin
Yellow pepper(s)
2 medium, cut into 2-inch long thin strips
Uncooked onion(s)
1 medium, thinly sliced
Red wine
4 fl oz, (1/2 cup)
Minced garlic
1½ Tbsp
Canned crushed tomatoes
28 oz, fire-roasted recommended
Crushed red pepper flakes
½ tsp, or less to taste
Table salt
¼ tsp
Uncooked whole wheat pasta
8 oz, fusilli
Basil
⅓ cup(s), fresh, chopped
Instructions
1. Bring a large pot of lightly salted water to a boil.
2. Meanwhile, to make sauce, in a large nonstick skillet over medium-high heat, cook sausage, stirring and breaking up meat with back of a wooden spoon, until cooked through, about 3 to 5 minutes; remove to a plate.
3. Heat oil in same skillet. Add yellow peppers and onion; cook, stirring frequently, until vegetables are lightly colored and crisp-tender, about 5 minutes.
4. Add wine and garlic; cook until most of liquid evaporates, about 1 minute. Add tomatoes, crushed red pepper, salt and browned sausage; bring to a boil. Reduce heat to medium-low, cover and simmer until vegetables are tender and sauce is heated through, about 10 minutes.
5. While sauce simmers, add pasta to boiling water and cook according to package instructions. Drain pasta; return to pot. Add sauce and basil; toss to mix and coat.
6. Serving size: 1 1/3 cup