Honey mustard chicken salad on whole wheat
Total Time: 
  15 min   
Prep: 15 
min   
Serves: 1
If you've got leftover chicken in your fridge, this sandwich is a good way to make it over for a quick, fresh, and easy lunch that's ready in 15 minutes or less. The chicken salad uses rich-tasting Greek yogurt for the base that mimics the traditional mayo and includes diced pear for freshness, sweetness, and crunch. You could substitute apples or grapes, if you like. Peppery arugula is a nice complement to the sweetness. You can omit the bread and increase the arugula to amp up the vegetables in your meal or simply serve the chicken salad with fruit for a light meal.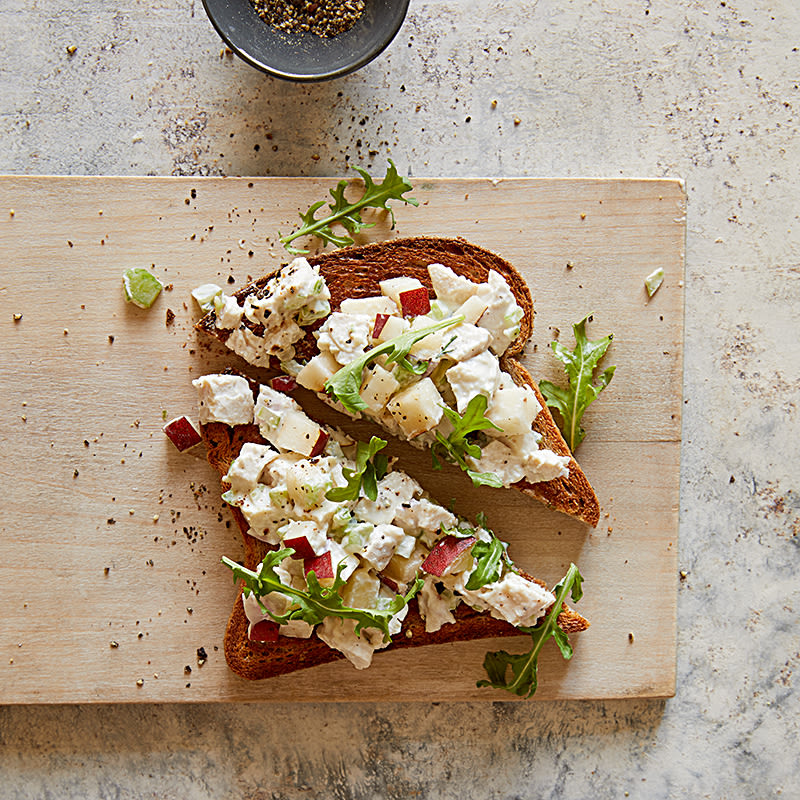 Ingredients
Plain fat free Greek yogurt
3
 Tbsp
Black pepper
1
 pinch
, freshly ground
Cooked skinless boneless chicken breast(s)
½
 cup(s), chopped
, diced
Pear(s)
¼
 item(s)
, ripe, diced
Uncooked celery
2
 Tbsp
, chopped
Uncooked shallot(s)
1
½
 Tbsp
, or red onion, chopped
Light whole grain bread
2
 slice(s)
, toasted
Arugula
½
 cup(s)
, baby variety
Instructions
1. Combine yogurt, mustard, salt, and pepper in a small bowl. Add chicken, pear, celery, and shallot; toss to coat. Serve on bread with arugula.
2. Makes 1 serving.