Grilled stone fruit with fresh mango sauce
Total Time: 
  18 min   
Prep: 15 
min  Cook:  3 min  
Serves: 8
Use fresh mango as a sweet and tasty topping for grilled stone fruit. This juicy, natural superfruit can be enjoyed year-round. When selecting a mango at the grocery store, the best way to tell its ripeness is by the way that it feels. Squeeze it gently, and if there's a slight give then that indicates its ripeness that it has a softness inside. This recipe calls for nectarines, peaches, apricots and plums, but any mix of stone fruit works in this recipe. Just make sure it's ripe but still somewhat firm for best grilling. Raspberries add a colorful garnish.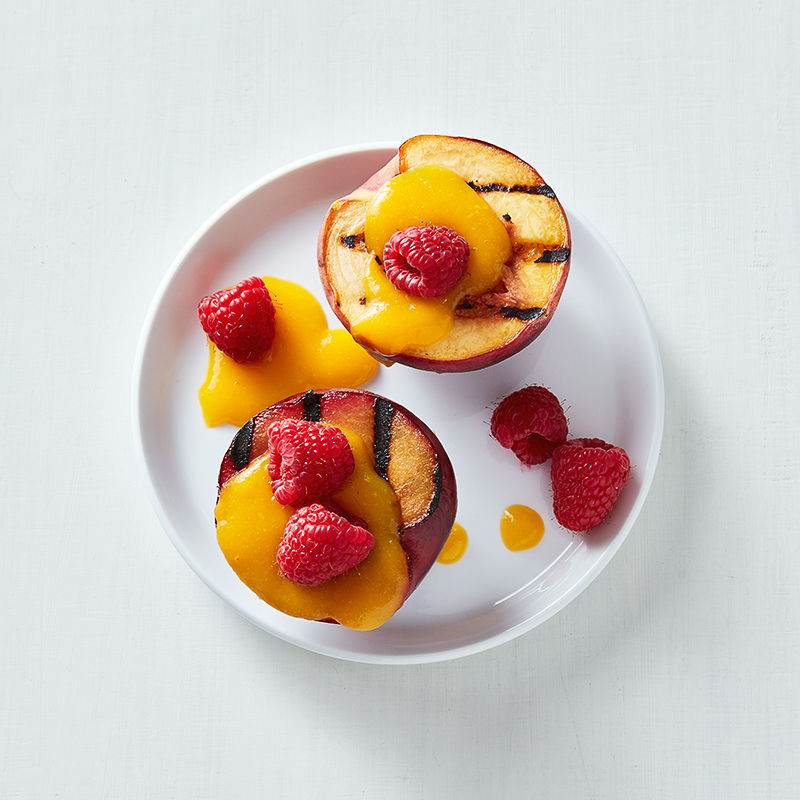 Ingredients
Mango(es)
¾
 cup(s)
, fresh, cubed
Peach(es)
8
 medium
, nectarines, apricots, and/or plums, halved and pitted
Fresh raspberries
½
 cup(s)
Instructions
1. Puree mango in a blender or food processor; set aside.
2. Off heat, coat a grill or grill pan with cooking spray; heat to medium-high heat. Coat cut side of stone fruit with cooking spray; place cut side-down on grill. Cook until grill marks appear, 2 minutes; flip and cook 1 minute to heat through.
3. Serve fruit on a platter, drizzled with mango sauce and garnished with raspberries.
4. Serving size: 2 fruit halves plus 2 Tbsp sauce