Greek yogurt with warm blueberry sauce
Total Time: 
  25 min   
Prep: 8 
min  Cook:  7 min  
Serves: 6
Fresh blueberry sauce is incredibly easy to prepare and makes a fantastic breakfast, snack or dessert when swirled into plain Greek yogurt. Frozen blueberries can be used in place of fresh blueberries – especially when they are not in season. Just add a few minutes to the sauce cooking time. If you're serving for company, layer it in parfait glasses for an elegant brunch or dessert recipe. You can also top with toasted nuts or granola for an added crunch. This sauce also works well with pancakes or over biscuits.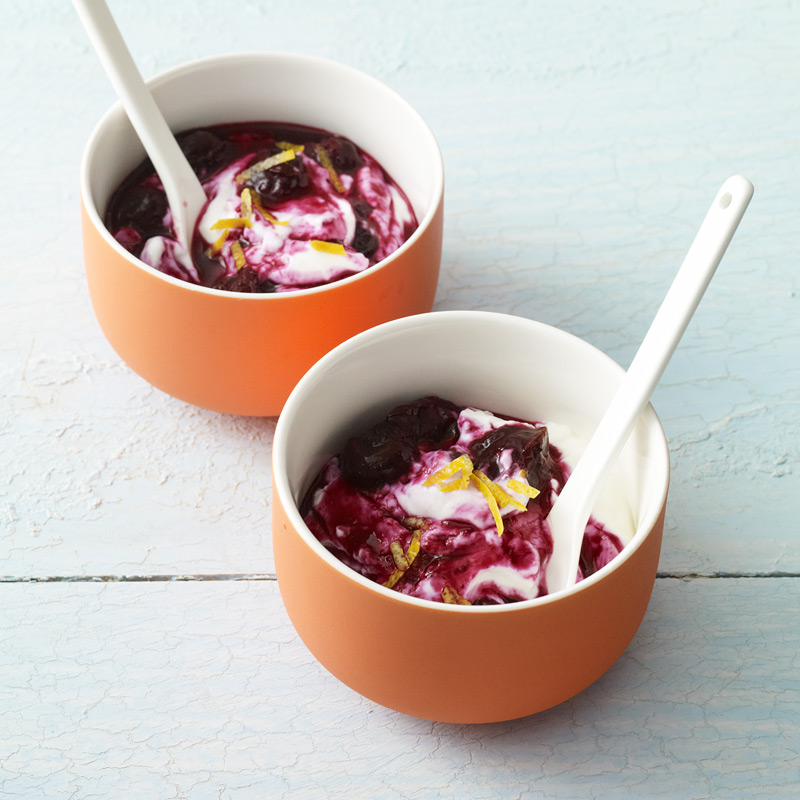 Ingredients
Fresh blueberries
2 cup(s)
Sugar
2 Tbsp
Water
2 Tbsp
Lemon zest
½ tsp, grated
Fresh lemon juice
½ tsp
Table salt
1 pinch
Plain fat free Greek yogurt
3 cup(s)
Instructions
1. In a medium saucepan, combine blueberries, sugar and water; bring to a simmer over medium-high heat. Reduce heat to medium and simmer, stirring occasionally, until most of the berries burst and cook down into a purple sauce, 5-7 minutes.
2. Remove sauce from heat and stir in lemon zest, lemon juice and salt; let cool to warm. (If not using right away, transfer to container, cover and refrigerate until serving. Reheat.)
3. To serve, spoon yogurt evenly into 6 small bowls; top evenly with warm berry sauce and gently swirl sauce into yogurt.
4. Serving size: 1/2 cup yogurt and 1/4 cup sauce