Deviled eggs with capers and dill
Total Time: 
  15 min   
Prep: 15 
min  Cook:  0 min  
Serves: 6
Impress your guests with a pretty platter of these delicious pick-up appetizers that are so easy to make. Buy hard-cooked, peeled eggs at your grocery store to streamline prep even more. This versatile recipe is easily changed with a few tweaks. Use tarragon or basil in place of the dill, chopped scallions for the shallots, grainy brown mustard instead of Dijon, and chopped cornichons (the tiny French dill pickles) instead of capers to create a whole new take on this picnic and party classic.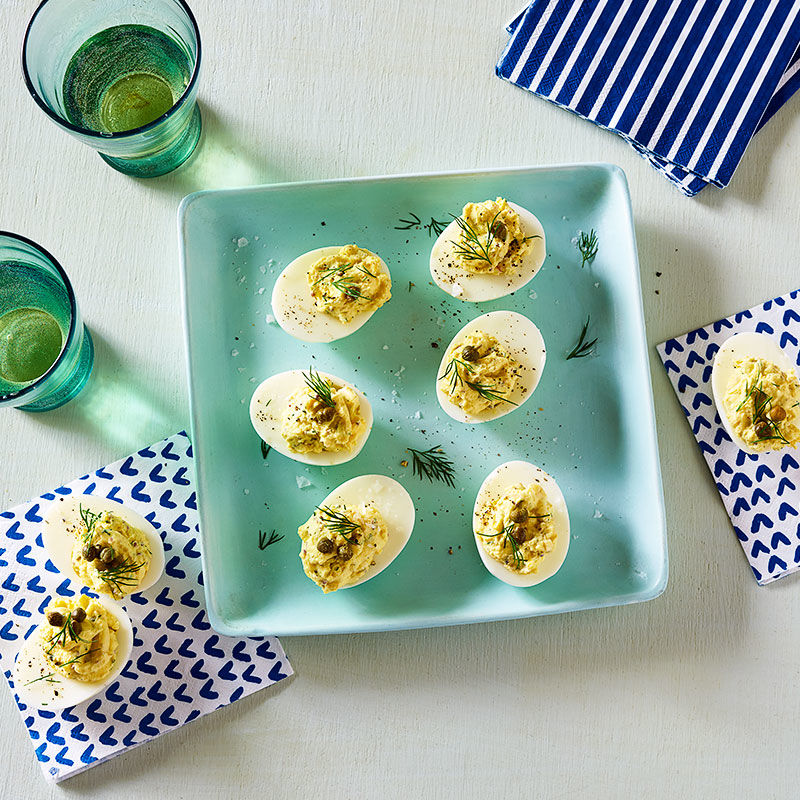 Ingredients
Eggs, hard-boiled
6 item(s), peeled and halved lengthwise
Plain fat free Greek yogurt
3 Tbsp
Dijon Mustard
1 Tbsp, grainy variety
Dill
¾ tsp, fresh, chopped (plus extra for garnish)
Uncooked shallot(s)
¾ tsp, minced
Kosher salt
⅛ tsp, (plus extra for garnish)
Black pepper
1 pinch, (plus extra for garnish)
Capers
1½ tsp
Instructions
1. Remove yolks from eggs; place yolks in a bowl. Mash yolks with yogurt, mustard, dill, shallot, salt and pepper; spoon or pipe yolk mixture back into eggs. Serve garnished with capers, additional dill and salt and pepper (optional).
2. Serving size: 2 filled egg halves