SmartPoints® value per serving
Total Time: 
  18 min   
Prep: 18 
min 
Serves: 6
Instead of relying on a traditional mayonnaise-based dressing, here Greek yogurt stands in and teams up with curry powder, cilantro, scallions, and lime zest to make an Asian-inspired chicken salad. It's a cinch to throw together thanks to cooked chopped chicken. Feel free to toss in any leftover chicken that needs to be used up or you can grab a rotisserie chicken from the deli if you'd like. Serve with pita chips, raw veggies or over a bed of mixed greens. The apple adds both sweetness and crunch. When in season, swap a ripe but firm chopped mango for the apple if desired.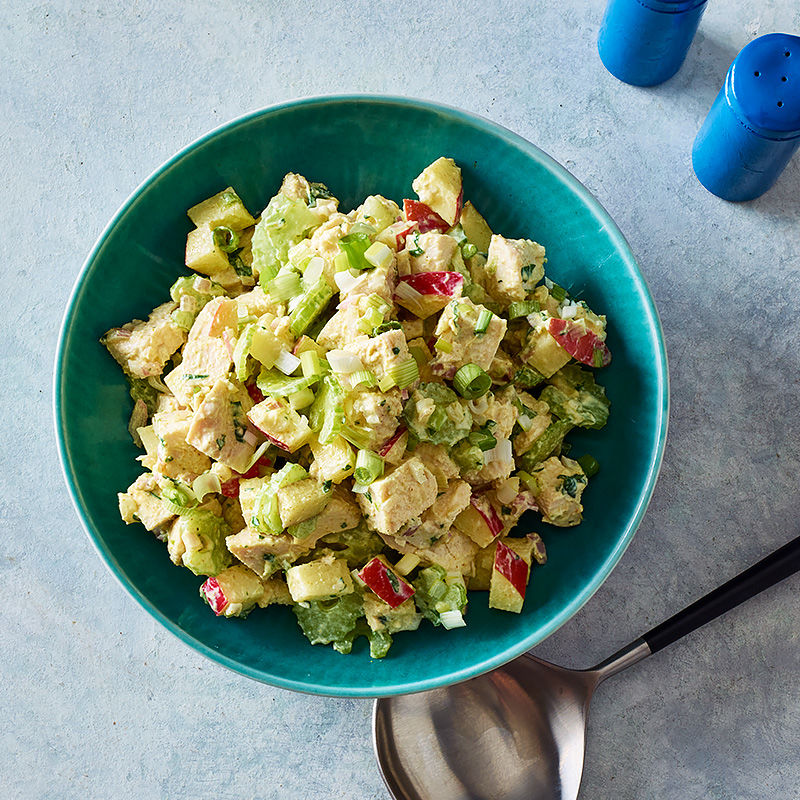 Ingredients
Cooked skinless boneless chicken breast(s)
2 cup(s), chopped, cubed
Fresh apple(s)
1 small, Fuji-variety, diced
Uncooked celery
½ cup(s), thinly sliced
Uncooked shallot(s)
¼ cup(s), minced
Plain fat free Greek yogurt
⅓ cup(s)
Cilantro
2 Tbsp, minced, fresh
Curry powder
1 tsp
Fresh lime juice
½ tsp
Lime zest
½ tsp, finely grated
Kosher salt
¾ tsp
Uncooked scallion(s)
1 Tbsp, chopped (optional)
Instructions
1. Combine chicken, apple, celery and shallot in a large bowl.
2. In another bowl, whisk together yogurt, cilantro, curry powder, lime juice, lime zest and salt; pour over chicken salad and toss lightly to coat. Garnish with optional chopped scallions.
3. Serving size: 1/2 c