Cranberry-almond morning barley
Total Time: 
  22 min   
Prep: 5 
min  Cook:  12 min  
Serves: 4
Tangy dried cranberries and crunchy sliced almonds play nicely against the creamy texture of cooked whole-grain barley. We opted for quick-cooking barley, which is done in about 10 minutes, so that this dish can be prepared even if time is short.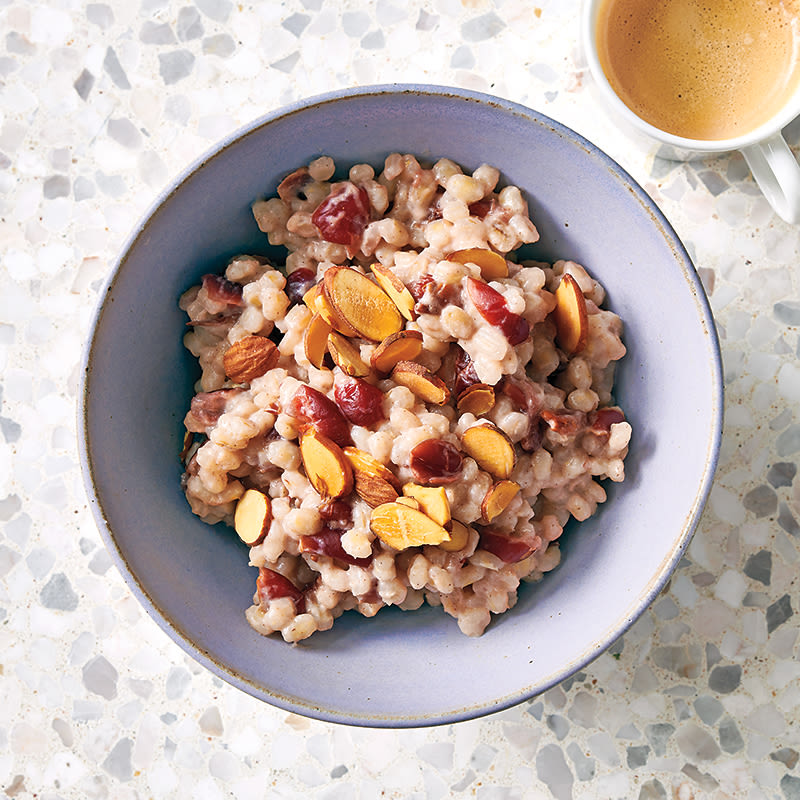 Ingredients
Almonds
2 Tbsp, slivered or sliced
Water
2 cup(s)
Uncooked pearl barley
1 cup(s), quick-cooking variety
Dried cranberries
⅓ cup(s)
Table salt
1 pinch
Half-and-half cream
¼ cup(s)
Ground cinnamon
½ tsp
Instructions
1. Put almonds in small skillet and set over medium-high heat. Cook, shaking pan frequently, until golden, about 2 minutes. Transfer almonds to small plate or cup.
2. Meanwhile, bring water to boil in medium saucepan. Stir in barley, cranberries, and salt; reduce heat and simmer, covered, until water is absorbed and barley is tender, 10–12 minutes. Remove saucepan from heat and stir in half-and-half and cinnamon. Let stand, covered, 5 minutes. Divide evenly among 4 bowls and sprinkle with almonds.
3. Serving size: generous ¾ cup barley mixture and 1/2 tablespoon almonds