SmartPoints® value per serving
Total Time: 
  2hr 25 min   
Prep: 30 
min  Cook:  1 hr 40 min  
Serves: 12
Sink your teeth into this gooey version of meat lasagna. It's rich and flavorful, good enough to be called a classic. If you prefer your cheese nice and browned, place under broiler for 30 seconds to 1 minute after baking.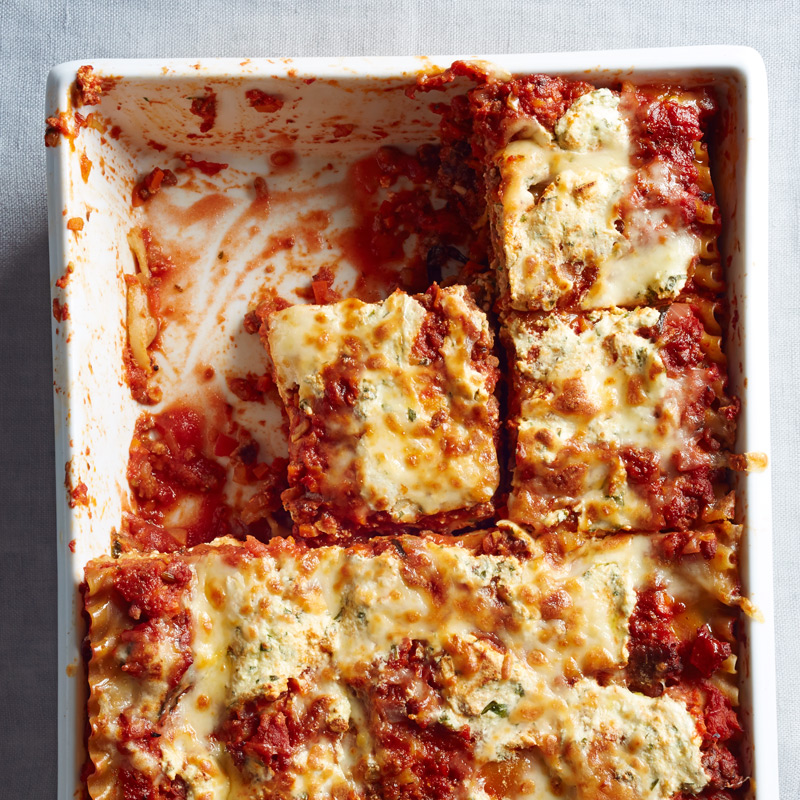 Ingredients
Olive oil
2 Tbsp
Uncooked onion(s)
1½ cup(s), finely chopped
Uncooked carrot(s)
1 cup(s), finely chopped
Uncooked celery
1 cup(s), finely chopped
Minced garlic
2 Tbsp
Uncooked 93% lean ground beef
1 pound(s)
Red wine
4 fl oz, dry variety (1/2 cup)
Canned crushed tomatoes
56 oz, two 28-oz cans, Italian plum variety
Canned tomato paste
3 Tbsp
Dried oregano
2 tsp
Table salt
1 tsp
Black pepper
½
 tsp
, freshly ground
Red pepper flakes
¼ tsp, or to taste
Basil
½ cup(s), fresh, choppedFilling
Part-skim ricotta cheese
15 oz
Egg(s)
1 large
Grated Parmesan cheese
½ cup(s)
Fresh parsley
¼ cup(s), flat-leaf, choppedRemaining Items
Whole-wheat lasagna noodles, uncooked
13¼ oz, (16 uncooked noodles)
Shredded part-skim mozzarella cheese
2½ cup(s)
Instructions
1. To make sauce, heat oil in a large, heavy saucepan over medium heat. Add onion, carrot, celery and garlic; cook, stirring frequently until vegetables are tender, about 15 minutes.
2. Increase heat to medium-high and add beef; cook until browned, breaking up clumps of meat with a spoon as it cooks, about 5 minutes.
3. Add wine; cook, stirring once or twice, until most of the liquid has evaporated, about 2 to 3 minutes. Stir in crushed tomatoes, tomato paste, oregano, salt, black pepper and red pepper flakes; increase heat to high and bring to a boil. Reduce heat to low and simmer, uncovered, until sauce thickens, about 20 minutes; stir in basil.
4. Preheat oven to 375°F. To make filling, in a medium bowl, stir together ricotta cheese, egg, Parmesan cheese and parsley.
5. To assemble lasagna, in bottom of a 13- X 9-inch baking dish, spread 2 cups of meat sauce; layer 4 noodles over top, overlapping slightly to fit. Spoon about 2 1/4 cups meat sauce over noodles; top with ½ cup ricotta mixture and 1/2 cup mozzarella. Repeat layering with remaining noodles, meat sauce and ricotta mixture, reserving ½ cup mozzarella cheese.
6. Cover lasagna with foil and bake 45 minutes. Remove foil, sprinkle with remaining ½ cup mozzarella and bake until cheese melts and is lightly browned, about 5 minutes more; remove from oven and let stand 15 minutes before slicing into 12 pieces. Yields 1 piece per serving.