Citrus and ginger roasted broccoli
SmartPoints® value per serving
Total Time: 
  37 min   
Prep: 12 
min  Cook:  25 min  
Serves: 4
A simple orange, ginger and soy sauce drizzle gives broccoli both a sweet and spicy note. Serve with an Asian-inspired fish dish and rice.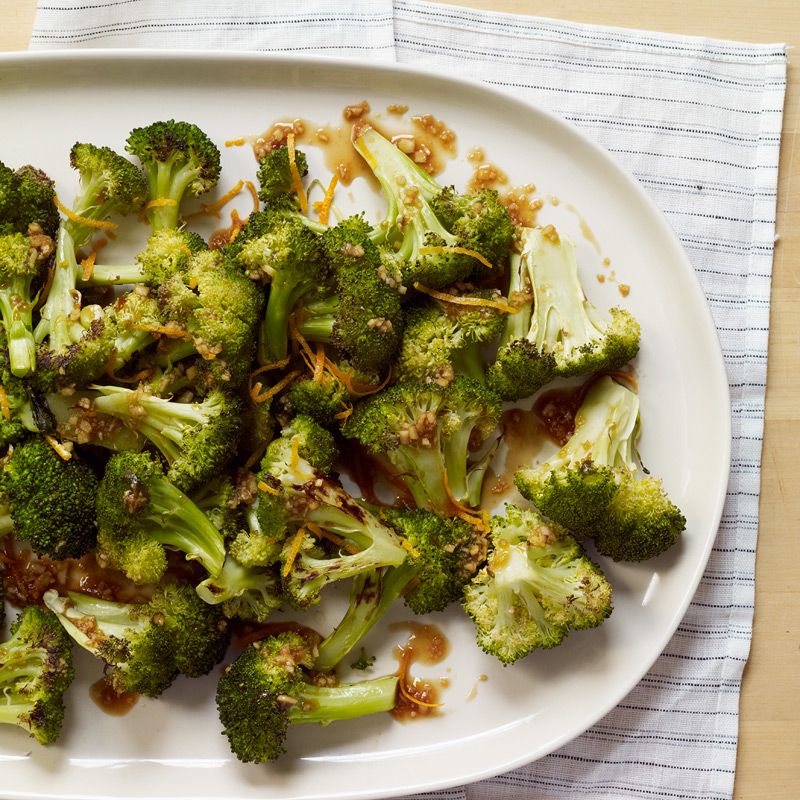 Ingredients
Uncooked broccoli
 1 head(s), cut into large florets with some stem (use a large head)
Olive oil
1 Tbsp, extra virgin
Low sodium soy sauce
1 Tbsp
Orange juice
2 tsp
Orange zest
2 tsp
Ginger root
1½ tsp, fresh, minced
Minced garlic
1½ tsp
Instructions
1. Preheat oven to 450ºF. Coat a large baking sheet with cooking spray.
2. Toss broccoli with oil; spread on prepared pan in an even layer. Roast, stirring once halfway through, until lightly browned, about 20-25 minutes.
3. While broccoli roasts, in a small bowl, whisk together soy sauce, orange juice, orange zest, ginger and garlic.
4. Immediately drizzle cooked broccoli with orange mixture and serve.
Serving size: 1 c