Chocolate and vanilla meringue cookies
SmartPoints® value per serving
Total Time: 
  3 hr  8 min   
Prep: 8 
min  Cook:  3 hr   
Serves: 44
These sweet little meringue treats make an ideal bite-sized dessert for serving a crowd of any age or during any season. So you could plan to make them during the holidays or for your next potluck. They are egg white-sugar cookies that are baked for a long time at a low temperature which gives them a delectable crunchy texture. Make yours swirled by combining the two batters. Or for cookies with a decorative shape, gently spoon the egg white mixture into a pastry bags fitted with star tips and pipe into stars. Store leftovers in an airtight container at room temperature—they'll keep for about a week.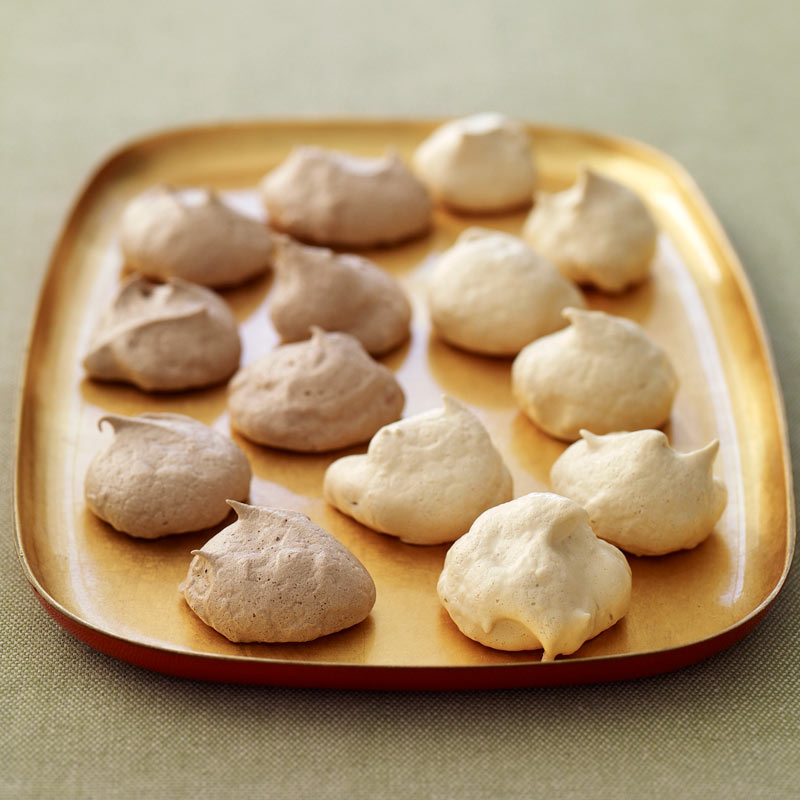 Ingredients
Distilled white vinegar
½
 tsp
, or cider vinegar
Unsweetened cocoa powder
2
 Tbsp
, powder
Instructions
1. Preheat oven to 200ºF. Line 2 baking sheets with foil.
2. In a large bowl, beat egg whites with an electric mixer until frothy. Add vinegar; beat until soft peaks form. Increase speed to high and gradually add sugar; beat until glossy stiff peaks form. Beat in vanilla.
3. Remove half of meringue to another bowl; stir in cocoa until blended.
4. Spoon tablespoons of both meringues onto prepared baking sheets about 1 inch apart each, making about 44 cookies – half vanilla-flavored and half cocoa-flavored. Or you can make marbleized cookies by spooning 1/2 tablespoon of each type of meringue into a mound and then swirling the 2 together with your fingers.
5. Bake until meringues feel dry and crisp all the way through, about 3 hours. Turn off oven; leave meringues in oven for 1 hour. Transfer baking sheets to wire racks to cool completely. Peel meringues off foil and store in an airtight container.
6. Serving size: 1 cookie