Chickpea and spinach stew
Total Time: 
  38 min   
Prep: 16 
min  Cook:  22 min  
Serves: 6
Enjoy this meatless main dish on its own or make it into a more substantial meal by serving it alongside roasted sweet potatoes or spooned over whole wheat couscous or brown rice. Pairing the stew with a mixed greens salad would be a delicious option to increase your veggie intake for the day too. Here, we've used plain diced tomatoes, but feel free to experiment and use a seasoned variety of canned tomatoes like roasted garlic, fire roasted or bell pepper and onion for more robust flavor. Throw in a pinch of cayenne, crushed red pepper, or minced jalapeño to turn up the heat.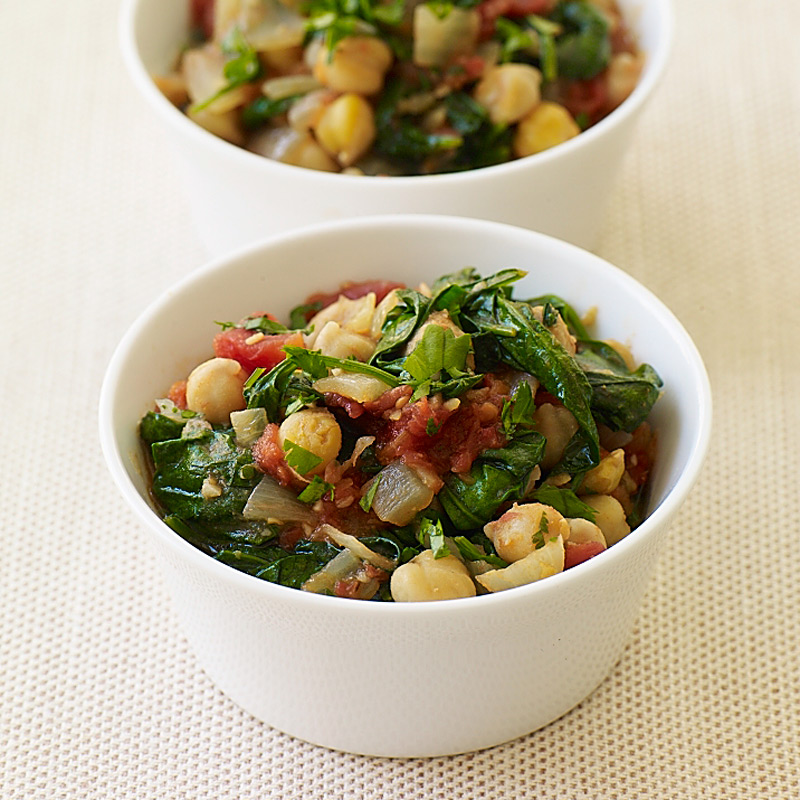 Ingredients
Olive oil
2
 tsp
, extra-virgin
Uncooked onion(s)
2
 small
, chopped
Table salt
1
 tsp
, divided
Garlic clove(s)
2
 medium clove(s)
, minced
Canned diced tomatoes
15 oz, packed in their own juice, undrained
Chickpeas
3 can(s), rinsed and drained (15 oz each)
Fresh spinach
10 oz, baby leaves
Water
2 Tbsp
Fresh lemon juice
1 Tbsp
Cilantro
¼ cup(s), fresh, chopped
Instructions
1. Heat oil in a large nonstick skillet over medium-low heat. Add onion and 1/2 teaspoon salt; cook, stirring frequently, until softened, about 10 minutes. Stir in garlic, cumin and ginger; cook for 1 minute. Add tomatoes and their juice, and chickpeas; stir to combine and mash chickpeas slightly with a potato masher.
2. Using tongs, toss in spinach and sprinkle mixture with water; cook, covered, until spinach is wilted, tossing mixture once half-way through, about 5 to 10 minutes. Stir in lemon juice, cilantro and remaining 1/2 teaspoon salt. Yields about 1 1/4 cups per serving.