Cheeseburgers with grilled onions
SmartPoints® value per serving
Total Time: 
  25 min   
Prep: 15 
min  Cook:  10 min  
Serves: 4
The secret to a juicy, lean burger is to avoid pressing down on the patty while it's cooking so it retains its juices. Sweet, yet savory, grilled onions bump up the flavor and make these burgers taste deliciously gourmet. To avoid watering eyes when prepping the onions, peel and chill them before slicing into rings. And, they'll stay intact while flipping them on the grill if you use a large pair tongs instead of a spatula. This recipe only calls for topping the burgers with tomatoes but a handful of arugula, spinach or other tender lettuce leaves would make a tasty addition too.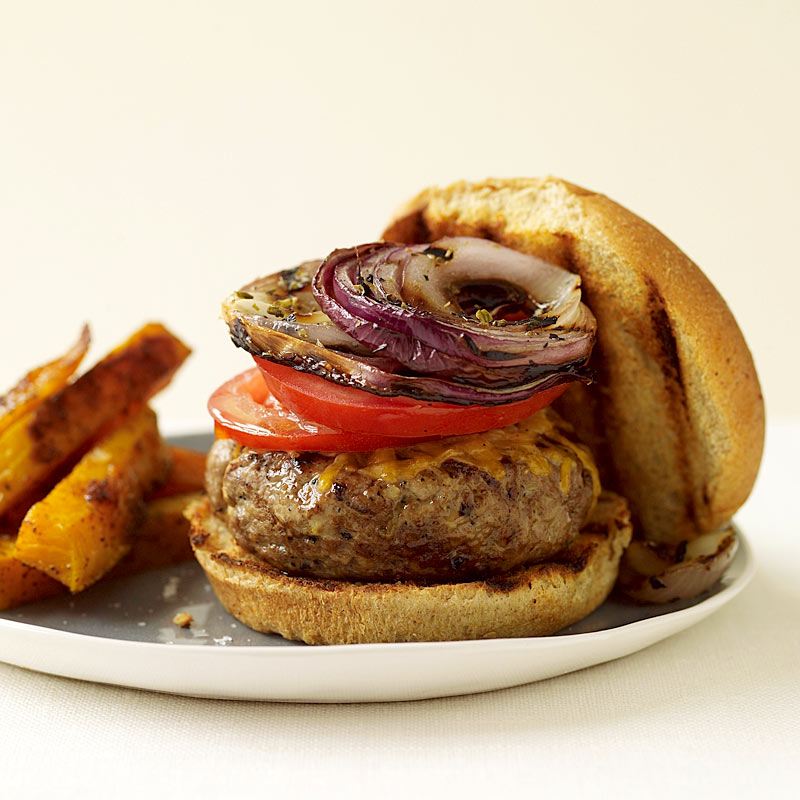 Ingredients
Uncooked 93% lean ground beef
1
 pound(s)
Garlic clove(s)
1
 medium clove(s)
, minced
50% reduced fat sharp cheddar cheese
½
 cup(s), shredded
Uncooked red onion(s)
½
 small
, cut into 4 thin slices
Reduced calorie hamburger roll(s)
4
 item(s)
Fresh tomato(es)
1
 small
, cut into 8 thin slices
Instructions
1. Preheat grill to medium-hot heat.
2. In a medium bowl, gently combine beef, garlic, salt and pepper; form into four 1/2-inch-thick patties. Place on grill and cook 4-5 minutes; flip and continue cooking until desired degree of doneness, 3-4 minutes more. Sprinkle each burger with 2 Tbsp cheese; cook until cheese melts, about 1 minute.
3. Meanwhile, brush both sides of onion with oil. Grill until bottom is lightly browned, 3-4 minutes. Flip onion and sprinkle with oregano; grill 2-3 minutes more.
4. Lightly toast open-faced buns on grill. Place burgers on buns and top each with 1 slice onion (separated into rings) and 2 tomato slices.
5. Serving size: 1 burger
Notes
You can also make this recipe using a stovetop grill pan. Cooking time may vary.