Buttermilk-Oat Pancakes with Yogurt and Pear
SmartPoints® value per serving
Total Time: 
  40 min   
Prep: 22 
min  Cook:  8 min  
Serves: 4
Soaking the oats for a short time makes them soft and creamy and ready for the pancake batter.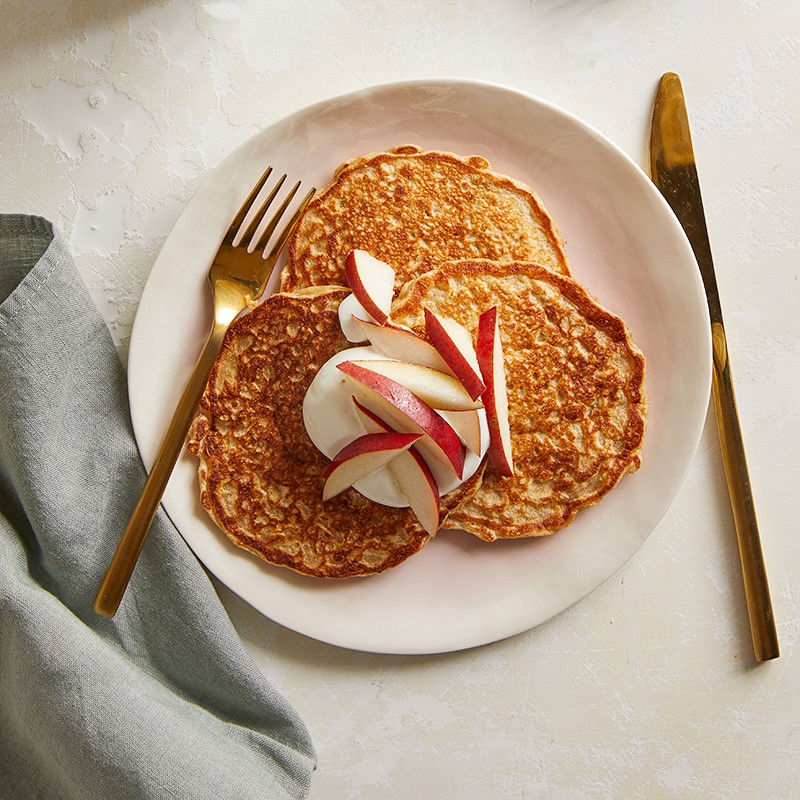 Ingredients
Fat free buttermilk
16 fl oz
Quick cooking rolled oats
1 cup(s)
Honey
1 Tbsp
Vanilla extract
1 tsp
Egg(s)
1 large, lightly beaten
White whole wheat flour
¾ cup(s)
Baking powder
1 tsp
Baking soda
¼ tsp
Ground cinnamon
½ tsp
Kosher salt
¼ tsp
Fat free vanilla Greek yogurt
½ cup(s)
Pear(s)
1 large, red variety, ripe but firm, thinly sliced
Instructions
1. Combine buttermilk, oats, honey and extract in a large bowl; let stand 10 minutes.
2. Preheat a large nonstick griddle to medium heat.
3. Stir egg into oat mixture until well combined.
4. Combine flour, baking powder, baking soda, cinnamon and salt in another bowl; stir flour mixture into oat mixture until just combined.
5. Scoop batter by 1/4-cup measure onto griddle to make a few pancakes at a time. Cook until bubbles cover pancake tops and edges are browned, 4-5 minutes; flip and cook an additional 2-3 minutes. (If you can't make them all at once, set aside cooked pancakes and keep warm. Repeat with remaining ingredients.) Serve pancakes topped with yogurt and pear.
6. Serving size: 3 pancakes, 2 Tbsp yogurt, few slices pear