SmartPoints® value per serving
Total Time: 
  30 min   
Prep: 10 
min  Cook:  20 min  
Serves: 8
For anyone who loves nachos, and is always on the lookout for delicious, easy, and healthy-leaning spins on the idea, this recipe is for you! Crisp from whole-grain blue corn chips, gooey from melted Jack cheese, and brightened thanks to fresh tomatoes, scallions, jalapeno pepper, and fresh cilantro, these nachos hit the spot. If you're in the unexpected postion of having leftovers, turn them into chilaquiles by adding a beaten egg or two and cooking it in a skillet. Be sure to arrange the chips in a single layer in the baking dish so there's plenty of surface area for the toppings.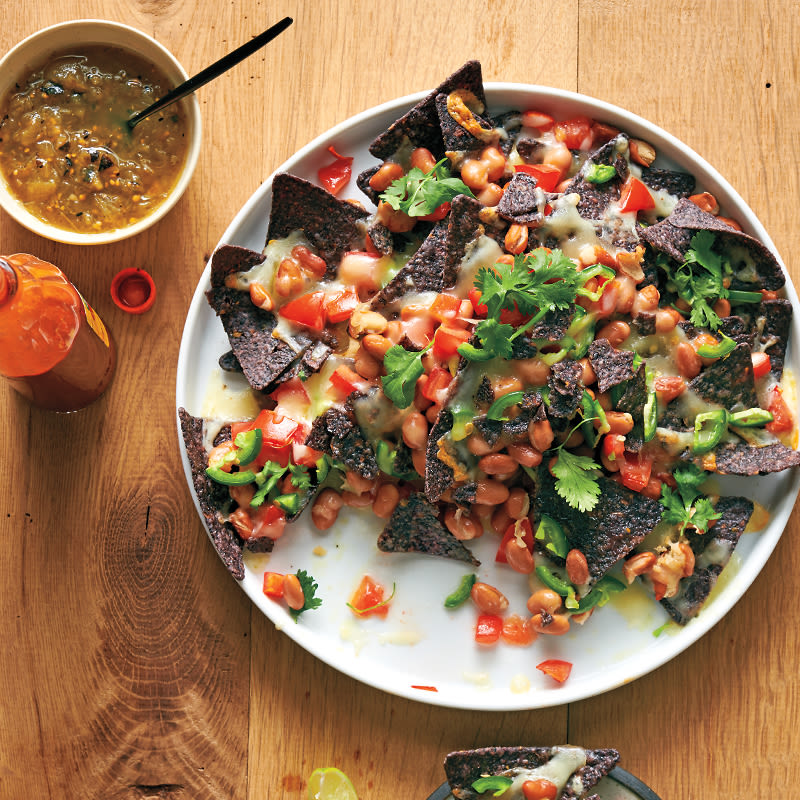 Ingredients
Baked blue corn tortilla chips
36 chip(s)
No-salt-added canned drained pinto beans
15½ oz, rinsed
Plum tomato(es)
2 medium, chopped
Uncooked scallion(s)
2 medium, thinly sliced
Jalapeño pepper(s)
1 medium, seeded and minced
Reduced-fat shredded Monterey Jack cheese
1 cup(s)
Cilantro
¼ cup(s), chopped fresh
Instructions
1. Preheat oven to 400°F. Spray 9 x 13-inch baking dish with nonstick spray.
2. Arrange 24 tortilla chips in prepared baking dish in single layer. Top with beans, tomatoes, scallions, and jalapeño. Crush remaining 12 tortilla chips and sprinkle on top. Sprinkle evenly with Monterey Jack.
3. Bake until heated through and cheese is melted, about 20 minutes. Sprinkle with cilantro.
4. Serving size: 1/8 of nachos