BLT dip with poppy seed tortilla chips
SmartPoints® value per serving
Total Time: 
  31 min   
Prep: 16 
min  Cook:  15 min  
Serves: 8
Our editorial team devoured this dip in seconds. It truly tastes like a BLT sandwich in a bowl. And the chips are to die for. Flour tortillas become light and crispy when baked, but brushed with an egg wash and sprinkled with poppy seeds elevates these chips to an addictive new level. If you'd like to make the dip more than a few hours in advance, just leave out the tomatoes until you're ready to serve or they will make the dip watery. The chips can be made several days ahead and stored in an air-tight container. Sprinkle the chips lightly with salt before baking, if desired.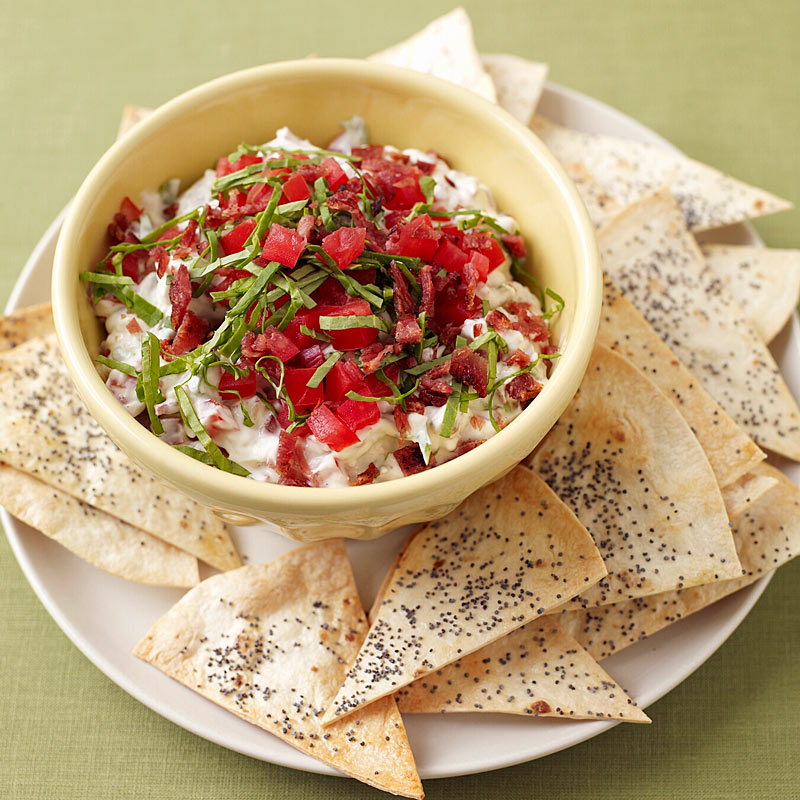 Ingredients
Flour tortilla(s)
4
large
Egg white(s)
1
large
, lightly beaten
Uncooked turkey bacon
4
slice(s)
Light sour cream
¾
cup(s)
Reduced calorie mayonnaise
¼
cup(s)
Uncooked onion(s)
3
Tbsp
, sweet-variety, finely chopped
Apple cider vinegar
1 tsp, or distilled white vinegar
Table salt
¼ tsp
Black pepper
¼ tsp, freshly ground
Fresh tomato(es)
¾ cup(s), fresh, diced
Arugula
½ cup(s), thinly shredded
Fresh tomato(es)
1 Tbsp, fresh, diced (for garnish)
Arugula
⅛ cup(s), thinly shredded (for garnish)
Instructions
To make chips, place oven rack in middle position. Preheat oven to 400ºF. Line a large baking sheet with aluminum foil.
2. Brush one side of each tortilla with egg white and then sprinkle with poppy seeds. Using a pizza slicer or a knife, cut each tortilla into 10 wedges; place on prepared baking sheet in a single layer. Bake until slightly golden and crisp, about 8 to 10 minutes; remove chips to a wire rack to cool.
3. Meanwhile, to make dip, cook turkey bacon in a large nonstick skillet over medium-low heat, turning occasionally, until lightly browned and crisp, about 5 to 6 minutes. Drain bacon on paper towels and then tear or chop into small pieces; set aside.
4. In a medium bowl, stir together sour cream, mayonnaise, onion, vinegar, salt and pepper until blended. Reserve 1 tablespoon of bacon for garnish. Add remaining bacon, 3/4 cup tomato and 1/2 cup arugula to sour cream mixture; stir until combined. Transfer to a serving bowl; cover and refrigerate at least 15 minutes for flavors to blend.
5. Garnish dip with remaining bacon, tomato and arugula just before serving; serve with chips. Yields 5 chips and about 1/4 cup dip per serving.