Basil-spinach dip with pita chips
Total Time: 
  28 min   
Prep: 20 
min  Cook:  8 min  
Serves: 1
Thick, creamy Greek yogurt takes the place of the usual mayo-and-cream cheese medley you'd find in traditional spinach dip. It provides all the wonderful richness that you would expect, only in a much healthier way. Serve this with thick-cut raw veggie slices like carrot, cucumber, jicama, or radish for easy scooping. Or, slather a spoonful of this creamy dip on top of a piece of cold poached chicken or salmon. It's also delicious folded into an egg-white omelette for a hearty hello to start any day. If you want to play around with this recipe, you could use arugula or watercress in place of the spinach for a peppery bite or quickly-blanched kale for a change of pace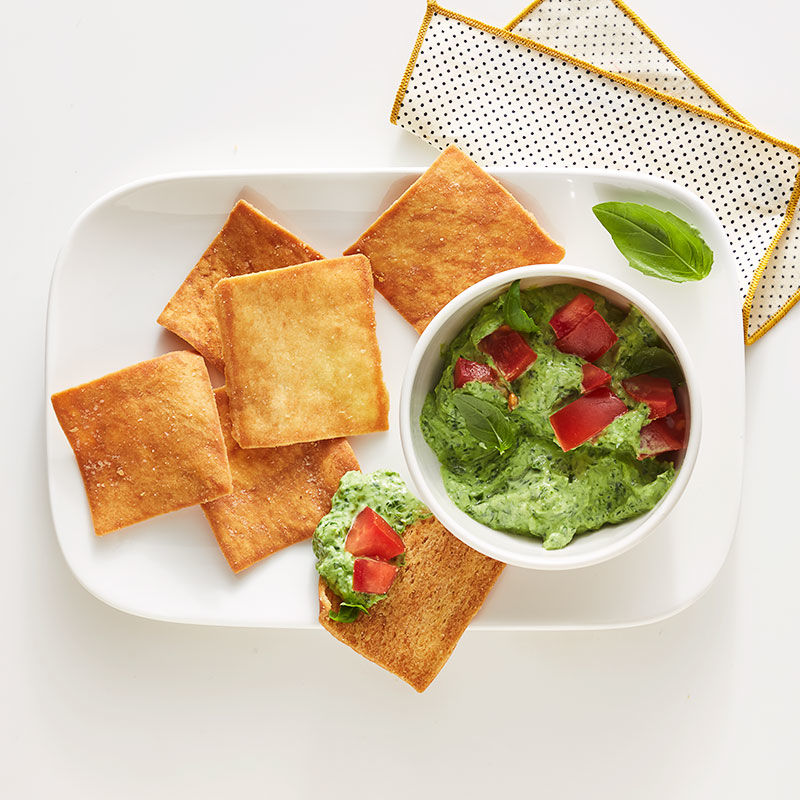 Ingredients
Fresh baby spinach
½ cup(s), lightly packed
Plain fat free Greek yogurt
¼ cup(s)
Basil
¼ cup(s), fresh, lightly packed
Uncooked scallion(s)
1 small, chopped
Water
1 tsp
Grated Parmesan cheese
2 tsp
Table salt
1 pinch, or to taste
Black pepper
1 pinch, or to taste
Fresh tomato(es)
1 Tbsp, diced
Whole wheat pita chips
6 chip(s), or regular
Instructions
1. Combine spinach, yogurt, basil, scallion, and water in a mini-food processor or blender; process until smooth (add more water if too thick). Scrape into a small bowl and stir in cheese. Season with salt and pepper; sprinkle with tomato. Serve with pita chips.
 
2. Makes 1 serving.