Baked eggs with delicata squash, spinach, and feta
SmartPoints® value per serving
Total Time: 
  1hr  20 min   
Prep: 25 
min  Cook:  55 min  
Serves: 6
Look at how colorful and beautiful this baked egg dish is. It'll make your guests swoon the second you put it out on the table. In case you never knew, the peels of squash like acorn and delicata are not only edible, but delicious and packed with tons of nutrients (plus, no peeling equals less prep time, which is always a win). If you can't find delicata squash, you can use 1 large acorn squash instead. The eggs will continue to cook after the dish is removed from the oven, so keep a close eye on them at the five-minute mark; runny yolks will give the dish a lovely sauciness.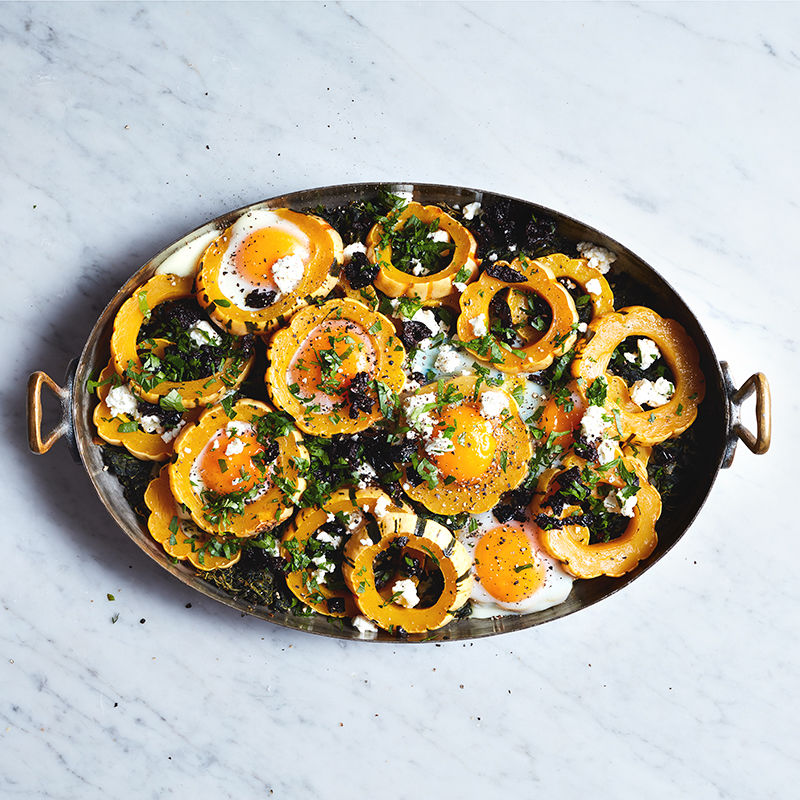 Ingredients
Chopped frozen spinach
30
 oz
, three 10 oz packages, defrosted, well-drained
Uncooked onion(s)
1
 large
, yellow variety, minced
Garlic clove(s)
2
 medium clove(s)
, minced
Black pepper
⅛
 tsp
, freshly ground
Uncooked delicata squash
2
 medium
, trimmed, seeded, sliced in 1/2-inch-thick circles
Oil-cured olives
10
 item(s)
, chopped
Crumbled feta cheese
2
 Tbsp
Fresh parsley
½
 cup(s)
, flat leaf-variety, coarsely chopped
Instructions
1. Preheat oven to 425°F. Coat 13- X 9-inch baking dish with cooking spray.
2. Combine spinach, onion, garlic, cumin, salt, pepper and cayenne in a large bowl; spoon into prepared baking dish in an even layer. Arrange a layer of squash over top and drizzle with oil. Cover with foil; bake until squash is completely tender, 45 minutes.
3. Remove dish from oven and crack eggs over vegetable mixture, spacing them out evenly (season with salt and pepper, if desired). Bake until egg whites just set but yolks are still bright yellow and somewhat runny, 8-10 minutes (or longer if desired). Serve sprinkled with olives, feta and parsley.
4. Serving size: 3 c vegetables and 1 egg