Baked chocolate, almond, and cranberry wontons
Total Time: 
  17 min   
Prep: 10 
min  Cook:  7 min  
Serves: 32
These delicious wontons are a fantastic sweet-tart duo for a snack or dessert, and no one will believe that they can be made in under 20 minutes. All you need is some chocolate chips, dried cranberries, almonds, wonton wrappers, and powdered sugar to put them together. Instead of frying, these wontons are baked in the oven to help reduce calories and make prep an absolute breeze. Feel free to try other combinations as well for the filling, such as dried cranberries, white chocolate chips, and chopped cashews. You can also warm up some cherry preserves and serve with the wontons as a dip, if desired.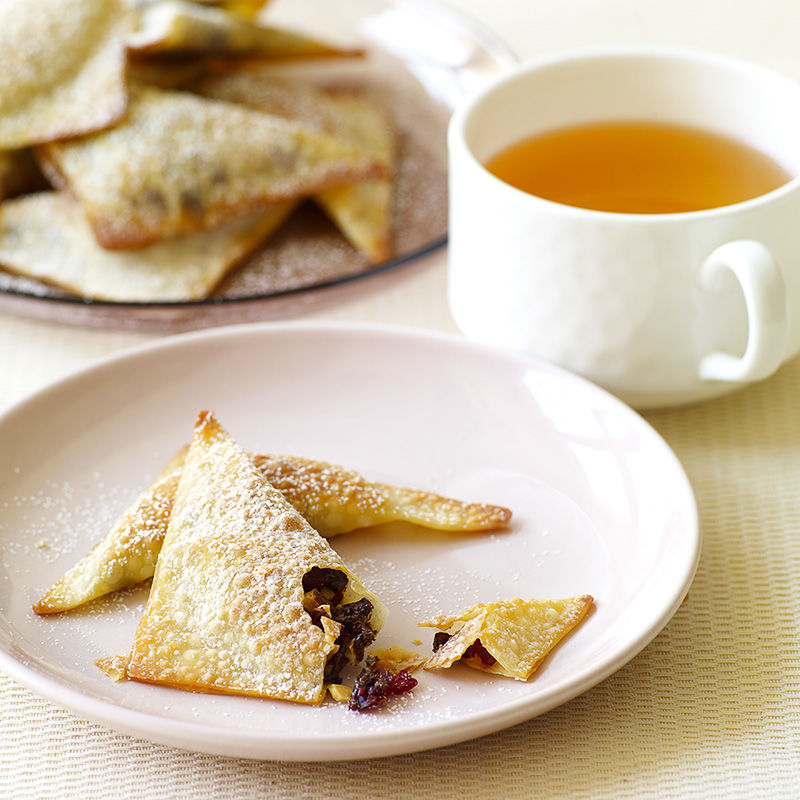 Ingredients
Cooking spray
3 spray(s)
Semisweet chocolate chips
½ cup(s), chopped
Dried cranberries
¼ cup(s), or dried cherries, chopped
Almonds
¼
 cup(s), sliced
, toasted, chopped
Wonton wrapper(s)
32
 item(s)
Powdered sugar (confectioner's)
3
 Tbsp
Instructions
1. Preheat oven to 425°F. Coat a large baking sheet with cooking spray.
2. In a medium bowl, combine chocolate, cranberries and almonds.
3. Place wonton wrappers on a flat surface. Drop chocolate mixture by 1/2 tablespoonfuls onto center of each wrapper, making sure to get a combination of the 3 ingredients in each. Dip a finger into water and use it to moisten edges of wrapper; fold over one corner of wrapper to make a triangle and press sides together to create a seal. If desired, create decorative lines along edges of wontons by pressing tines of a fork along bottom edge of each wonton.
4. Bake until wontons are golden brown on edges and dough is just cooked through, about 5 to 7 minutes. Remove from oven and let cool slightly. Dust with sugar just before serving. Yields 1 wonton per serving.