Asparagus, bacon, and cheese strata
Total Time: 
  35 min   
Prep: 15 
min  Cook:  20 min  
Serves: 6
Look at how beautifully cheesy and colorful this delicious, hearty, easy strata is. Stratas make an excellent breakfast or brunch, and they give you the perfect opportunity to use up leftover vegetables, lean meats, and day-old bread. The bread soaks up a mixture of eggs, egg whites, milk, and Dijon mustard before sprinkling with the bacon, onion, asparagus, and not one, but two types of cheese: cheddar and Parmesan. Feel free to mix up the veggies and cheese with whatever you have on hand. And if you don't have an ovenproof skillet, you can cover the handle with aluminum foil before broiling.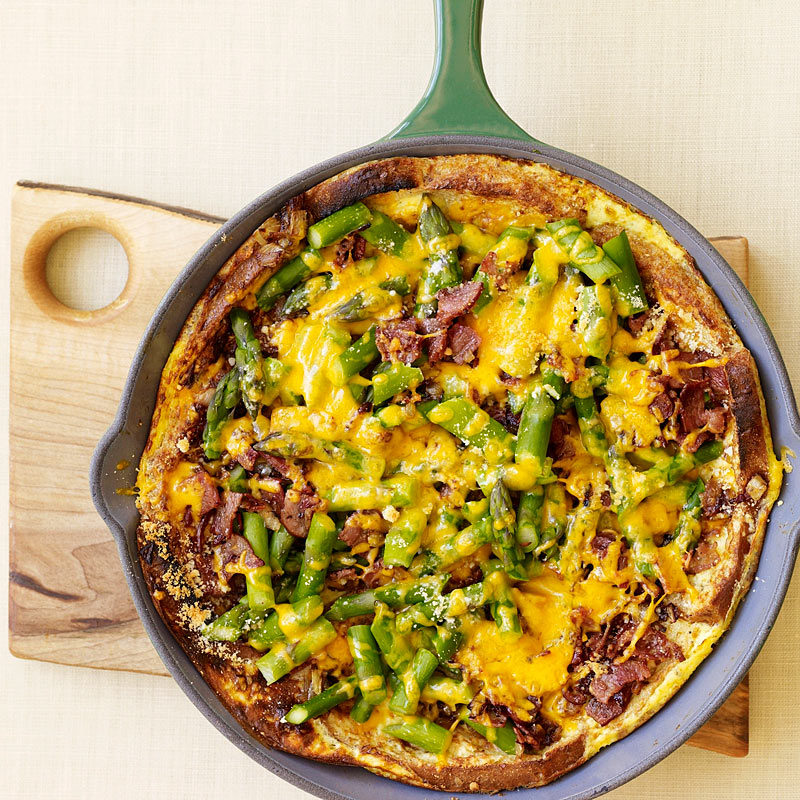 Ingredients
Olive oil
2
 tsp
, or vegetable oil
Uncooked turkey bacon
4
 slice(s)
, diced
Uncooked onion(s)
½
 cup(s)
, diced
Uncooked asparagus
2
 cup(s)
, fresh, or frozen and thawed, cut into 1-inch pieces
Reduced-calorie whole wheat bread
6
 slice(s)
Fat free skim milk
¾
 cup(s)
Black pepper
¼
 tsp
, freshly ground
Grated Parmesan cheese
2
 Tbsp
, divided
Weight Watchers Reduced-fat Mexican style shredded cheese
1
 cup(s)
, about 4 oz
Instructions
1. Heat oil in a large ovenproof skillet over medium heat. Add bacon and cook, stirring, until golden brown, about 4 minutes. Add onion and asparagus; sauté until vegetable are soft, about 3 to 5 minutes. Remove vegetables from pan and set aside.
2. Preheat broiler.
3. Off heat, coat same skillet with cooking spray. Arrange bread slices tightly in bottom of skillet.
4. In a large bowl, whisk together eggs, egg whites, milk, mustard, salt and pepper; pour over bread and allow milk mixture to soak in entirely (like when you make French toast). Sprinkle bread with 1 tablespoon of Parmesan cheese.
5. Place skillet over medium to medium-high heat. Cook, shaking pan frequently to promote even cooking, until almost cooked through to the top, about 4 or 5 minutes.
6. Place skillet under broiler to set eggs, about 2 minutes. Remove skillet from broiler; top with bacon-vegetable mixture, cheddar cheese and remaining tablespoon of Parmesan cheese. Place skillet under broiler again until cheese melts, about 1 to 2 minutes. Slice into 6 pieces and serve. Yields 1 piece per serving.