Arugula, peach, and goat cheese salad
Total Time: 
  15 min   
Prep: 15 
min  Cook:  0 min  
Serves: 4
Peppery arugula and tart crumbled semisoft goat cheese go beautifully with sweet peaches in this pretty-looking, 15-minute salad. The combo is a true winner—especially topped with some chopped salted nuts. Here we call for dry-roasted pistachios, but you can use your favorite type of nut, preferably toasted for even more flavor. We also love the color and texture addition of thinly sliced red onions, but you can substitute whatever kind of onion you have on hand. Everything in this salad is beautifully complemented by the peach purée made with olive oil, red-wine vinegar, salt, and pepper. You can use mango when peaches are not in season.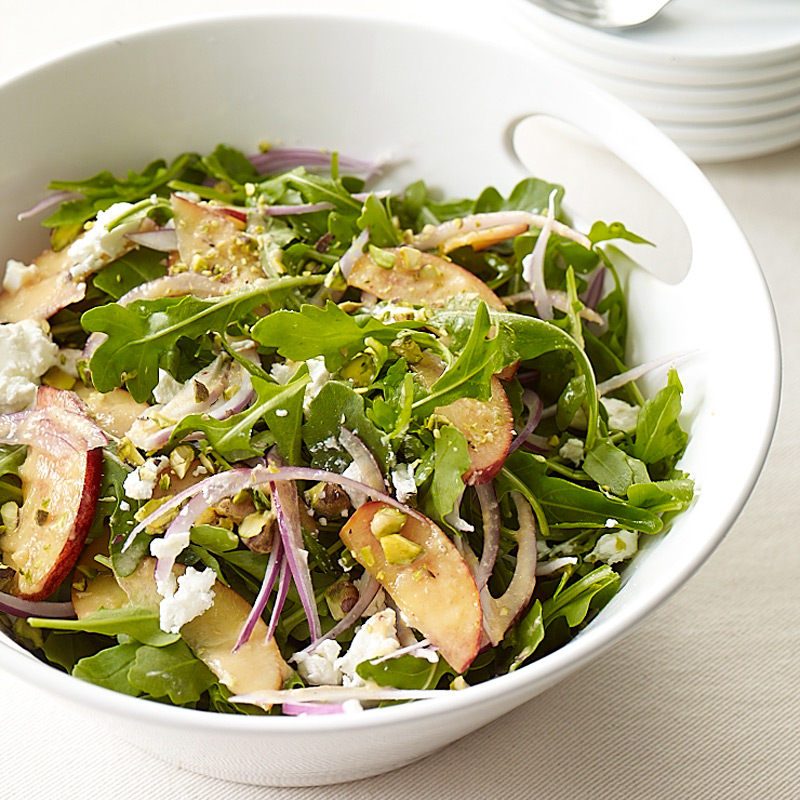 Ingredients
Peach(es)
3
 medium
, ripe but not mushy
Olive oil
1
 Tbsp
, extra virgin
Black pepper
¼
 tsp
, freshly ground (plus extra for garnish – optional)
Argula
Uncooked red onion(s)
½
 small
, thinly sliced
Semisoft goat cheese
¼
 cup(s)
, crumbled
Salted dry-roasted pistachio nuts
¼
 cup(s)
, coarsely chopped
Instructions
1. Peel and pit one peach; cut it into chunks. Cut remaining peaches into thin slices or wedges; set aside.
2. Put peach chunks, oil, vinegar, salt and pepper in a blender; blend until smooth and set aside.
3. Place arugula, onion and peach slices in a large serving bowl; drizzle with dressing and gently toss to coat. Sprinkle with cheese and nuts; grind some extra black pepper over top, if desired. Yields about 2 cups salad mixture and 1 tablespoon each cheese and nuts per serving.