All-American turkey burger with squash fries
SmartPoints® value per serving
Total Time: 
  30 min   
Prep: 15 
min  Cook:  15 min  
Serves: 1
Here's everything you love about a delicious burger and fries—but healthier, featuring a ground turkey patty and fries that are made out of a butternut squash. The turkey patties are flavored with scallions, barbecue sauce, and a pinch of salt, which are then roasted in the oven, then topped with lettuce, tomatoes, pickles, and a tangy mayo sauce. This recipe is designed to serve one, but you can easily scale it up if you're roasting burgers for a crowd. Also, be sure to use the long neck of the squash to cut the fries—the shorter bulb will not yield fry-like sticks.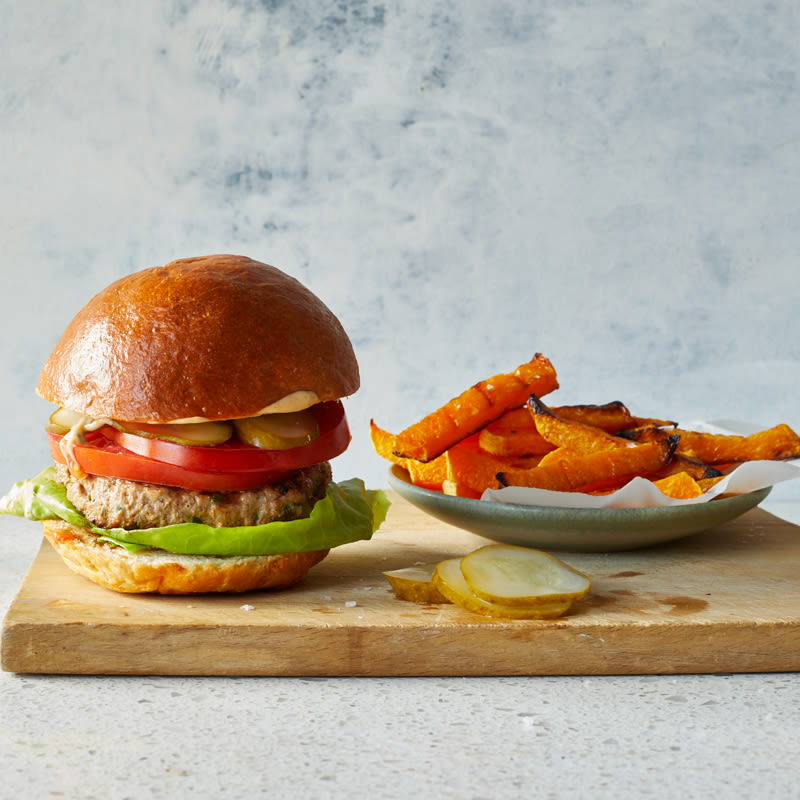 Ingredients
Cooking spray
4 spray(s)
Uncooked 99% fat-free ground turkey breast
4 oz
Uncooked scallion(s)
2½ Tbsp, chopped, divided
Barbecue sauce
2 tsp, divided
Table salt
1 pinch
Black pepper
1 pinch
Uncooked butternut squash
8 oz, cut into 1/2-inch-thick sticks
Mayonnaise
½ Tbsp
Plain hamburger bun
1 item(s), toasted
Lettuce
1 leaf/leaves, large
Fresh tomato(es)
2 slice(s)
Kosher dill pickle sandwich slice(s)
4 slice(s)
Instructions
1. Preheat oven to 450°F. Coat a small baking sheet with cooking spray.
2. In a medium bowl, combine turkey, 2 Tbsp scallion, 1 tsp barbecue sauce and pinch salt; form into 1/2-inch-thick patty and place on one side of prepared pan. Put squash on other side of pan and coat squash and burger with cooking spray; sprinkle with salt and pepper. Roast turning once, until fries are golden and burger is cooked through, about 15 minutes.
3. Meanwhile, combine remaining 1/2 Tbsp scallion, remaining 1 tsp barbecue sauce and mayonnaise in a small cup.
4. To serve, layer lettuce, tomato, burger, mayonnaise mixture and pickles on roll; serve with squash fries.
5. Makes 1 serving.