Chocolate-espresso mousse shots
SmartPoints® value per serving
Total Time: 
  25 min   
Prep: 20 
min  Cook:  0 min  
Serves: 16
Espresso-spiked chocolate pudding is layered with crushed chocolate wafers in this so simple dessert recipe. If desired, only use 1 cup skim milk and add half a cup Irish Crème liquor when you add in the espresso mixture. Sprinkle the whipped topping with additional instant espresso or garnish with a raspberry and a sprig of mint for an elegant presentation. We recommend assembling the shots the day you plan to enjoy them. But, if you'd like, make the mousse a couple of days in advance and store in the refrigerator. Wait to assemble the shots until a few hours before you plan to serve them and chill if needed.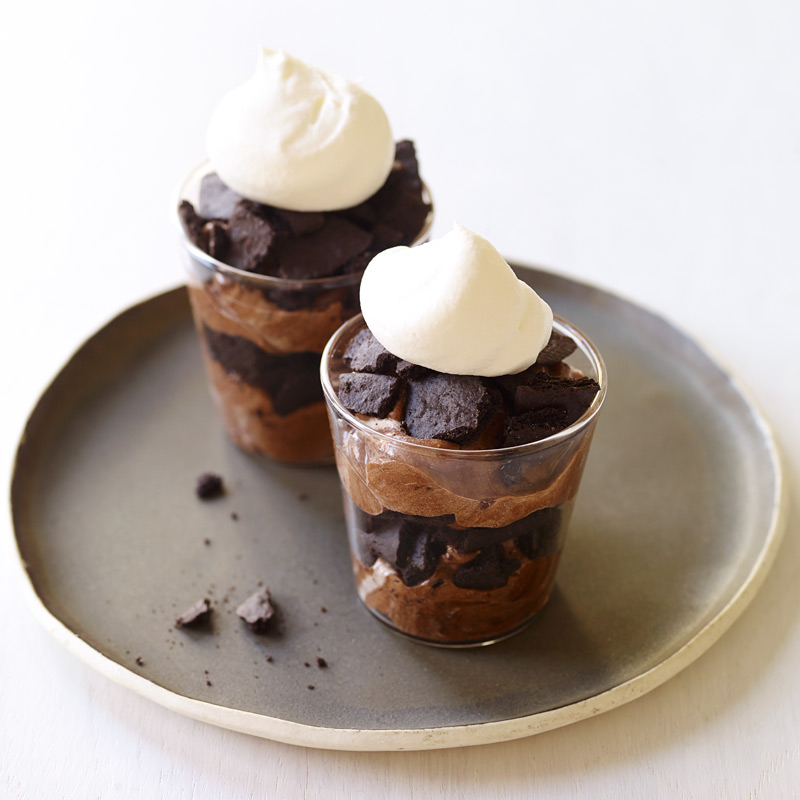 Ingredients
Instant espresso
2 tsp
Hot water
1 Tbsp
Instant chocolate pudding dry mix
1 package(s), (1.4 oz)
Fat free skim milk
1½ cup(s)
Lite whipped topping
1½ cup(s), divided
Chocolate wafer(s)
16 item(s), lightly broken
Instructions
In a small bowl, combine espresso and water until dissolved; let cool to room temperature.
2. In another bowl, whisk together pudding mix and skim milk until well-combined; whisk in espresso mixture and then fold in 1/2 cup whipped topping.
3. Line up 16 shot glasses and spoon 1 tbsp pudding in each one; top each with 1 1/2 tsp cookie pieces, 1 1/2 tbsp pudding and 1 more tsp cookie pieces.
4. Garnish each with 1 tbsp whipped topping before serving.
5. Serving size: 1 shot