Sheet-pan chicken fajitas with the works
SmartPoints® value per serving
Total Time: 
  40 min   
Prep: 20 
min  Cook:  20 min  
Serves: 4
Don't you just love it when dinner comes together on one pan? There's far less fuss—no shuffling of different pots and pans on the stove—and of course you're left with only one pan to clean. The key to this family favorite is to preheat the pan in the oven before you add the food. When the chicken and veggies hit a hot surface (as when you cook in a skillet), they start to caramelize on the surface while remaining tender and juicy within.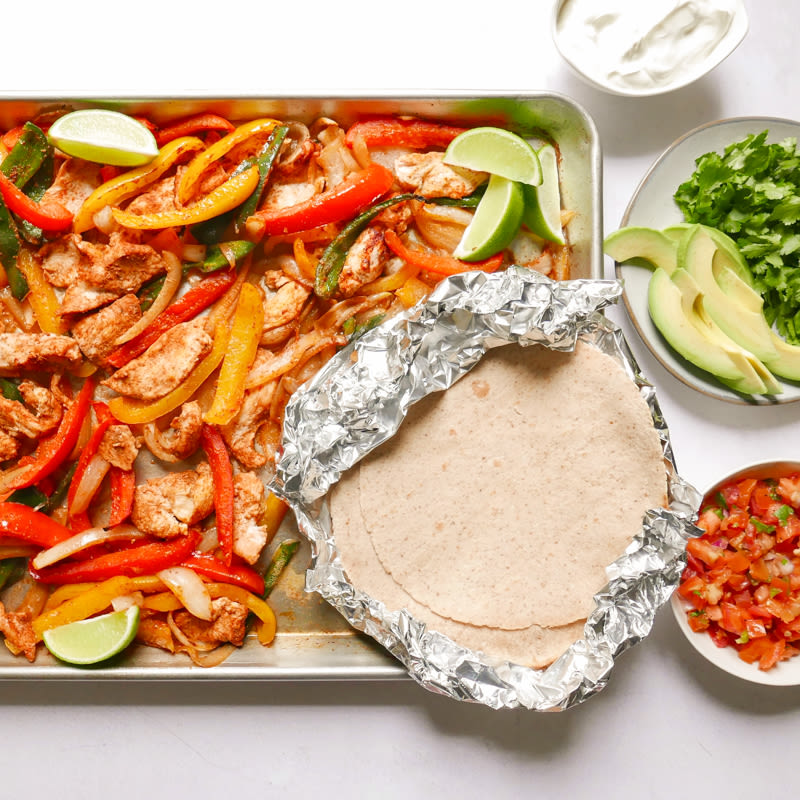 Ingredients
Uncooked boneless skinless chicken breast
1
 pound(s)
, thinly sliced
Uncooked onion(s)
1
 large
, yellow, sliced
Sweet red pepper(s)
1
 medium
, sliced
Yellow pepper(s)
1
 medium
, sliced
Poblano chile
1
 large
, sliced
Low-carb, high-fiber tortilla wraps
8
 tortilla(s)
, (6-inch)
Cilantro
½
 cup(s)
, leaves
Reduced-fat sour cream
¼
 cup(s)
Avocado
1
 item(s), medium
, thinly sliced
Jalapeño pepper(s)
1
 medium
, thinly sliced (optional)
Fresh lime(s)
1
 item(s)
, cut into wedges (optional)
Instructions
1. Place large rimmed baking sheet in oven. Preheat oven to 450°F, leaving pan in oven.
2. In large bowl, combine chicken, onion, bell peppers, and poblano. Drizzle with oil and toss gently until coated. Sprinkle with chili powder, garlic powder, cumin, salt, and paprika and toss gently until coated.
3. Carefully remove hot pan from oven and coat with nonstick spray. Spread chicken and vegetables in even layer on pan. Roast, stirring halfway through, for 20 minutes.
4. Meanwhile, wrap tortillas in foil. Warm tortillas in oven during last 5 minutes of roasting.
5. Divide chicken and vegetables among tortillas. Top with pico de gallo, cilantro, sour cream, and avocado. Serve with sliced jalapeño and lime wedges (if using).
6. Serving size: 2 filled tortillas