Chicken salad with walnuts and grapes
Total Time: 
  20 min   
Prep: 20 
min  Cook:  0 min  
Serves: 4
This is not your ordinary chicken salad recipe. This one's got crunchy nuts and sweet grapes, plus three types of fresh vegetables. The slight tang from the yogurt and zing from the ginger makes this version sing. You can use any leftover chicken that you have on hand or pick-up a rotisserie chicken from the deli instead. Serve over salad greens or spoon into lettuce leaves, like romaine or Bibb, as a hand-held variation. This salad holds up well in the refrigerator for a few days so make it ahead and divide into individual packable containers for a grab-and-go lunch.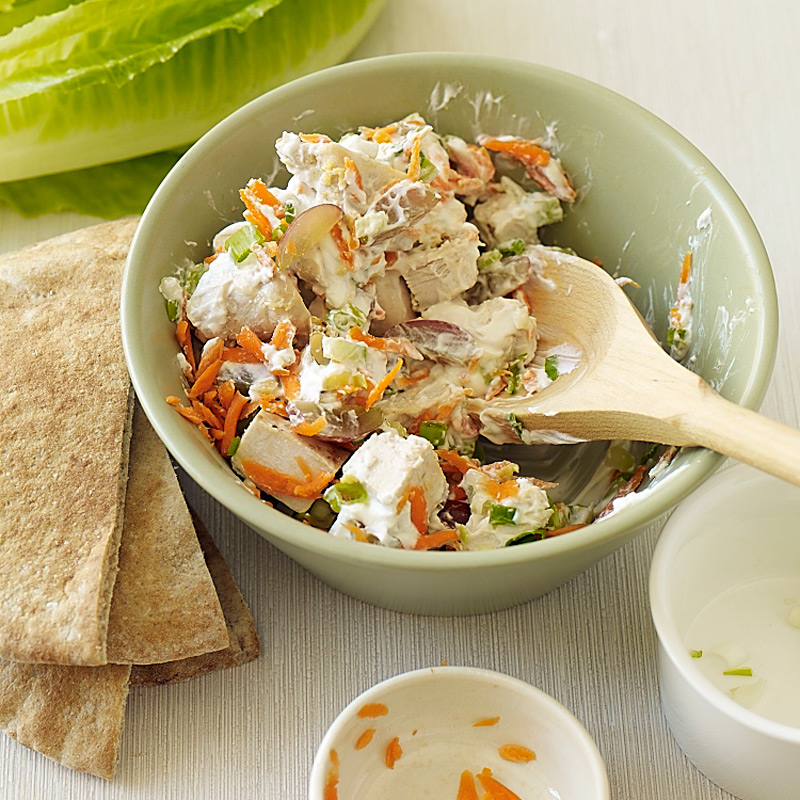 Ingredients
Plain fat free yogurt
¼
 cup(s)
Fat free mayonnaise
¼
 cup(s)
Roasted skinless boneless chicken breast
6
 oz
, cubed
Uncooked scallion(s)
2
 medium
, chopped
Grapes
¼
 cup(s)
, red, seedless, quartered
Uncooked celery
¼
 cup(s)
, chopped
Uncooked carrot(s)
¼
 cup(s)
, grated
Instructions
1. In a large bowl, combine yogurt, mayonnaise and ginger; add chicken and stir until chicken is well-coated.
2. Add scallions, grapes, celery, carrots and walnuts; gently stir, cover and chill until ready to serve. Yields about 1/2 cup per serving.